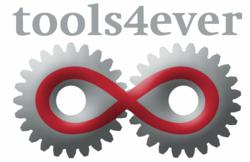 Lynbrook, NY (PRWEB) April 29, 2013
Tools4ever, the worldwide market leader in identity and access management solutions with more than five million user accounts, announced today that it has created a connector allowing its clients the ability to connect with Zimbra, an enterprise-class email, calendar and collaboration solution, built for the public and private cloud, via its User Management Resource Administrator (UMRA).
Tools4ever designed the Zimbra connector in response to customer need, and because of the Zimbra's increased popularity. With a connection from UMRA to Zimbra, system administrators can easily add users or make changes in Active Directory accounts that are automatically synchronized with Zimbra. This eliminates the manual process of creating, changing and disabling in multiple systems and allows administrators to quickly accomplish these tasks.
"We were able to create the Zimbra connector, test and deploy it in just a few days for use by our clients, at their request," said Dean Wiech, managing director of Tools4ever. "Now, the account management process seamlessly integrates with Active Directory and Zimbra without the need for additional manual steps by the network managers."
For example, one of Tools4ever's clients, a large real-estate company located in Florida recently decided to implement Zimbra to replace their in-house Exchange software. The organization needed to provision email accounts in Zimbra in the cloud, as well as perform updates and easily de-provision when necessary. Having used Tools4ever's UMRA for several years to manage Active Directory and Exchange accounts, they requested Tools4ever about developing a connector for Zimbra.
Tools4ever's UMRA assists organizations by automating their account management processes, allowing them to easily create, update and remove accounts, while also meeting necessary business audit standards.
UMRA helps them improve service levels, increase employee productivity and enhance security while also saving time and money, as well as offers benefits such as role-based access control (RBAC) that allows for consistency and control when issuing access rights to applications, shares, distribution lists and roles within applications.
To learn more about UMRA and other connector, please visit: Tools4ever Connectors. For more information about Tools4ever, visit http://www.tools4ever.com.
About Tools4ever
Tools4ever distinguishes itself with a no-nonsense approach and a low total cost of ownership. In contrast to comparable identity and access management solutions, Tools4ever implements a complete solution in several days rather than weeks or months. Because of this approach, Tools4ever is the undisputed identity and access management market leader with more than five million managed users. Tools4ever supplies a variety of software products and integrated consultancy services involving identity management, such as user provisioning, RBAC, password management, SSO and access management. For more information, please visit http://www.tools4ever.com.