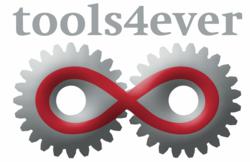 ...It's possible to manage identities both within and outside of school walls - simply and with a small investment.
Tewkesbury, Gloucestershire (PRWEB) October 13, 2011
Tools4ever, a market leader in Identity and Access Management solutions, has strengthened its position as a Cloud Identity Management supplier for education by adding Google Apps to its portfolio of supported platforms. For more than five years Tools4ever has been enabling the user account management of Cloud Applications (not hosted within an organisation's network (LAN)). The use of Cloud Applications has been spearheaded by many educational institutions, a market which Tools4ever has successfully supported for years. Other cloud applications frequently used within this sector include Live@Edu and Moodle.
Simplifying management, reducing costs and enhancing access are very common objectives for school administrators, and as such many choose to adopt cloud applications. IdM specialist Tools4ever ensures that user account management can be carried out more efficiently or can even be fully automated. The access (authentication) and rights (authorisation) are managed by Tools4ever's software.
Robert Doswell, Managing Director of Tools4ever, Ltd comments: "Due to the combination of increased market pressures and shrinking budgets, many schools have been forced to work more effectively whilst cutting costs, and thus opt for cloud applications. Although some believe identity and access management within cloud computing to be problematic, in fact with Tools4ever's Identity and Access Management applications it's possible to manage identities both within and outside of school walls - simply and with a small investment, giving schools the opportunity to make their cloud strategies successful within restricted budgets."
For more information on Tools4ever's solutions please click the link below:
http://www.tools4ever.com/gb/products/
About Tools4ever
Tools4ever distinguishes itself with a no-nonsense approach and a low Total Cost of Ownership. In contrast to comparable Identity & Access Management solutions, Tools4ever provides a complete solution in several days rather than weeks or months. Partly thanks to this approach, Tools4ever is the undisputed Identity & Access Management market leader, with more than one million managed user accounts.
Tools4ever supplies a variety of software products and integrated consultancy services involving Identity Management, such as User Provisioning, RBAC, Password Management, SSO and Access Management. For more information, please visit http://www.tools4ever.com.
###