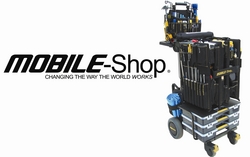 they are bringing talent to the table, in terms of operations and sales support.
Columbus, Ohio (PRWEB) May 21, 2008
The Mobile-Shop® Company (http://www.mobile-shop.com ) has taken on a major new investment partner, Hillcrest Management, LLC (http://www.hillcm.com ), a private investment firm based in Milford, NH. The multi-million dollar investment will allow Mobile-Shop to continue its rapid growth and expand into additional markets both in North America and abroad.
"Our partnership with Hillcrest is a natural fit based on their prior investment in the multifamily residential market," said Edward "Jerry" Guirlinger, president of Mobile-Shop. "Hillcrest has seen first hand the value the Mobile-Shop System brings to maintenance operations." Noting that the capital will allow Mobile-Shop to expand operations and ramp up production as it increases its presence in additional markets, e.g. the hospitality, facilities, government and military markets, Guirlinger stated: "It also gives us the ability to respond to frequent requests to develop customized versions of the Mobile-Shop System for specialty trades."
The patented Mobile-Shop System is a portable tool and parts organizer that allows maintenance workers to easily wheel everything they need – or might need – to the job site. Consisting of a specially engineered cart that moves on wheels and comes fully loaded with 230 professional quality tools and more than 180 critical small parts, the System allows every tool and part to be inventoried in less than 60 seconds. It eliminates work stoppages due to lack of on-site tools or parts and alleviates concerns about missing tools, ensuring maximum efficiency and productivity in the maintenance area.
Hillcrest, whose other business ventures include Mobile-Shop customer Mission Residential, is passionate about the companies it invests in and works closely with them on business plan execution. In addition to capital, states Guirlinger, "they are bringing talent to the table, in terms of operations and sales support."
"Hillcrest is committed to identifying and investing in emerging companies we believe can change the world," says Hillcrest managing partner Rob Finlay. "In Mobile-Shop, we have found an innovator with the power to redefine the way maintenance professionals in a wide-array of industries approach their jobs. This is both a top-notch product and a one-stop solution that exponentially boosts efficiency and can save companies hundreds of thousands of dollars a year in operating costs."
Mobile-Shop will continue to be based in Columbus and expects to grow its local workforce while expanding its sales force and distribution partnerships on a regional basis in the U.S. and Canada.
Contact:
Edward "Jerry" Guirlinger
President, CEO
Mobile-Shop Co.
5089 Westerville Rd.
Columbus, OH 43231
614-348-2517
edward@mobile-shop.com
###