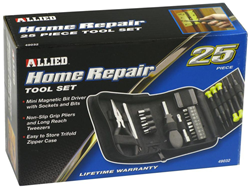 This is most everything a new homeowner needs to take care of most repair projects. Everything in one box, conveniently stored and organized.
Dallas, TX (PRWEB) August 31, 2015
TheHardwareCity.com is pleased to announce the availability of the technologically-advanced and easy to use Allied 49032 tools set.
These home repair tool sets are manufactured by Allied Tools. The set consists of a selection of basic tools for general maintenance in and around the house. The tri-fold tool set allows yard and house work to be completed easily and efficiently without the sacrifice of power or performance.
The 25-piece tool set includes a driver with driver bits & extension, sockets, long nose pliers, precision screwdrivers & 3 inch tape measure, mini magnetic bit drivers with sockets and bits. It also includes non-slip grip pliers and long reach tweezers. All of these components are nicely packed in an easy to store tri-fold zipper case.
TheHardwareCity.com is known for providing an expansive online selection of outstanding products including building supplies, home hardware and plumbing supplies, and lawn and garden equipment.
About TheHardwareCity.com
TheHardwareCity.com is an online retailer of a wide range of products, including building and electrical supplies, tools, household supplies, and lawn and automotive supplies. The company strives to provide customers with not only the most high-quality and technologically-advanced products, but also the best value. In business since 2007, TheHardwareCity.com has become the premiere destination for all things home, lawn and automotive related.