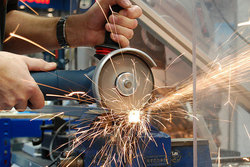 The Toolstop Power Tool Cookbook allows Toolstop to engage with power tool users, give them the inside scoop and gives them a voice within the power tool industry
(PRWEB) December 11, 2009
Just the thing the trade has been waiting for, a blog which gives the industry all the information it needs including previews of new power tools, reviews of power tools in use, videos of power tools, high quality photos, demonstrations of features, benefits and unique points, podcasts with interviews from people from inside the power tools industry, tours of power tool manufacturers facilities and more.
Toolstop Power Tools realise that it's important to engage with customers and get their views. That's why the blog was set up, to give the Toolstop customers a voice so they can get their questions answered, so they can talk about the latest addition to their tool kit, so they can interact with fellow power tool users, so they can learn about the latest tools, so they can comment on anything they like.
The unique thing about the Toolstop Power Tool Cookbook is that it uses different media to get its messages across. For example, if they meet up with someone from within the industry who had a bit of information which was new, they'd get the audio recorder out, get the details and put it in a podcast which is uploaded to the blog as well as iTunes. Or, if Toolstop were on site with a joiner and he was able to show them a time saving trick, the camera would come out and the film would soon be on the blog for the world to see.
The news, views and content on the Power Tool Cookbook doesn't just make itself, The Toolstop Power Tool Cookbook team has spent time at the Bosch and Makita headquarters recently to dig deep into the stories that are worthy of being released on the blog.
Toolstop spent a few days at the biggest power tool exhibition in the UK and spoke to hundreds of delegates, demonstrators and manufacturers. This has resulted in podcasts, videos and more reviews and demonstrations of power tools in action.
The Toolstop Power Tool Cookbook has recently been recognised for it's social media expertise by being commended by the biggest broadsheet newspaper in Scotland which is where the blog is produced. The blog is syndicated to various social networking sites such as Facebook, Twitter, Posterous and Linkedin to extend the range and appeal to the masses.
So, no more hunting around the internet to get the knowledge for purchasing or using power tools. It's all in one place now at the Toolstop Power Tool Cookbook
###