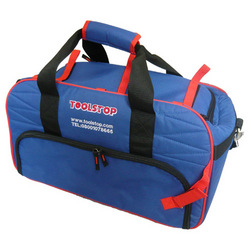 By speaking to their customers about experiences with toolbags, Toolstop came up with the best features from the best toolbags on the market and incorporated them into their own bags
(PRWEB) December 15, 2009
Toolstop is a supplier of power tools to the building and construction trade and one of the common complaints they receive is that there is not a toolbag on the market which is robust and has all the right features and compartments to keep power tools safe and secure.
That's why Toolstop decided to design their own toolbags. They got a bunch of power tool users in a room, fetched 10 of their top selling toolbags from stock (from manufacturers like Bosch, Makita, Dewalt, Ryobi, Stanley and Draper) and decided what were the best features from each of the bags and incorporated those features into their own toolbag. They believe they now have a toolbag which is of the very best quality, and will hold all the users power tools securely, keep them protected and also has compartments for accessories, levels, handsaws and even for paperwork.
The Toolstop tool bags come in 3 sizes - Medium (20 inch), Large (26 inch) and Extra Large (30 inch)
All tool bags feature plenty of internal and external pockets, a shoulder strap, hand carry handles. Here is a rundown of all the features:

3 x Straps to hold long items such as levels and saws
1 x Saw Pouch (with securing strap)
3 x Pouches to store bit sets, tape measures and other small tools
1 x Large compartment to store batteries and tools
3 x external pockets to store extra items
Pull-out handle and wheels to help aid mobility
Removable phone pouch
Pouch to store documents up to A4 in size
The bags come either branded with the Toolstop logo on or unbranded without. The colour is high visibility blue so they will never get lost on site.
The stitching on the tool bags keeps the bag very rigid and keeps its shape without collapsing.
The Extra Large bag also comes with wheels and a telescopic handle and will hold a massive number of tools.
So, thanks to Toolstop, the age old problem of getting just the right toolbag for your power tools is now resolved.
###