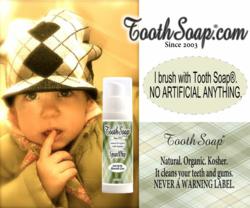 Since first creating Tooth Soap® on my kitchen table, we have eagerly anticipated receiving our first patent
Oregon City, OR (PRWEB) September 13, 2011
Tooth Soap, Inc., a leading manufacturer of natural oral care products, today announced that it has received a Notice of Allowance from the United States Patent and Trademark Office (USPTO) for claims in U.S. patent application no. 11/709,610. This patent application generally relates to novel formulations of Tooth Soap, Inc.'s award winning flagship product, Tooth Soap®. A Notice of Allowance is the official notification that the USPTO finds the claimed subject matter novel and non-obvious and intends to issue the patent pending payment of the issue fee. Given this action, Tooth Soap, Inc. expects the patent to issue within the next few months. Once issued, this patent will expire no earlier than February 2027.
Since 2003, Tooth Soap® has grown to become the best natural, non-toxic alternative to toothpaste. Tooth Soap®, made with organic whole foods, natural and wildcrafted sustainable ingredients, flawlessly cleans teeth and gums by scrubbing fissures and pits in teeth (the most common place for cavities) to remove oils, residues and other contaminants. Tooth Soap® leaves teeth absolutely clean allowing re-mineralization of teeth to occur naturally.
"Since first creating Tooth Soap® on my kitchen table, we have eagerly anticipated receiving our first patent," said Karen Van Cleef, Tooth Soap, Inc.'s Chief Executive Officer. "This patent will further bolster our intellectual property estate, and we expect that it will provide us with a significant opportunity to drive Tooth Soap®'s growth throughout this decade. To further secure our patent position, we have also filed additional applications to protect other novel and non-obvious Tooth Soap® formulations."
About Tooth Soap, Inc.:
Tooth Soap, Inc. is an emerging specialty oral care products company focused on the development of a portfolio of natural and non-toxic oral care products for consumers. For further information about Tooth Soap, Inc., please visit our website at http://www.toothsoap.com.
###