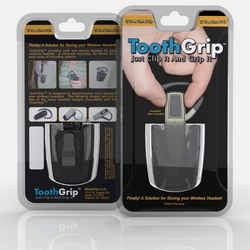 "ToothGrip eliminates the Houdini act while trying to retrieve a headset from one's purse or pants pocket when driving 55+ mph!"said Derek Maness, CEO of Blue Clip LLC
Gilbert, Ariz. (PRWEB) December 15, 2009
An Arizona company has devised a handy solution for storing wireless headsets safely in the car, at the office or anywhere else you don't want to wear an earpiece 24/7. This is a big deal for those who spend the majority of their work week on the road or in front of a computer monitor.
ToothGrip solves the problem of misplaced headsets, which can be damaged in the rush to locate them. A sturdy case weighing less than an ounce is designed to protect rectangular wireless systems in addition to keeping them within easy reach. A universal mounting clip swivels 360 degrees for convenient handling, allowing it to be installed just about anywhere.
"I hear so many stories about people missing important phone calls because they can't dig their wireless out of the glove box," said Derek Maness, CEO of Blue Clip LLC, the parent company launching ToothGrip. "Or, it's clipped to their belt, and they can't get to it because of the seatbelt. All that scrambling can be downright dangerous when flying down the highway."
While it's recommended that drivers pull to the side of the road for extended phone calls, ToothGrip provides easy retrieval of headsets and facilitates a hands-free system required by law in many states.
Benefits are numerous. The ToothGrip:

Safeguards against accidental dialing.
Protects your headset with a hard lightweight shell.
Gives a fashionable alternative to a belt-mounted case.
Offers an alternative to wearing conspicuous ear devices.
Provides stress-free retrieval, eliminating frustration over lost sets.
Lends an air of politeness and sophistication (no obvious headset).
Delivers swivel flexibility, making it convenient to attach to a purse, desk or kitchen cupboard.
Adds a safety dimension by facilitating retrieval without the need to take your eyes off the road.
This problem-solver retails for $14.95 and is compatible with headset brands, including Motorola, Samsung, Jabra, Nokia, Plantronics, BlueAnt and Sony Ericsson. It can be customized with logos and color and is an affordable stocking stuffer or add-on accessory at a business' front counter. To view samples, go to http://www.toothgrip.com.
"I'm happy to have solved problems for other Bluetooth users," said Maness. "Now people can stop throwing their valuable headsets in cup holders, where they can get damaged. Better yet, ToothGrip eliminates the Houdini act while trying to retrieve a headset from one's purse or pants pocket when driving 55+ mph!"
About Blue Clip, LLC
Headquartered in Gilbert, Ariz., Blue Clip, LLC was launched in 2008 by entrepreneur Derek Maness. The company's ToothGrip wireless headset holder was released to the public Nov. 20, 2009. ToothGrip is a trademarked name. A patent is pending.
# # #