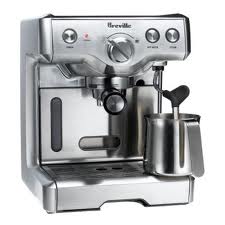 You won't find a sleeker, shinier machine than this espresso maker from Breville.
Atlanta, GA (PRWEB) January 25, 2012
Editors from 10rate spent some time researching and trying out some of the newest espresso machines and rating and reviewing them on the following criteria:
1. Ease of use
2. Style and design
3. Serving capacities
4. Durable and easily cleaned parts
5. Preparation time
6. Convenient tools and accessories
7. Quality coffee
For the most variety, we included stovetop, steam, and pump-driven models.
The annual 2012 Top 10 Best Espresso Machine Coffee Makers awards list was topped by the Breville 800ESXL winning the top quality spot and a 9 out of 10 rating. The review noted several strengths of the maker including the following exerpt, "You won't find a sleeker, shinier machine than this espresso maker from Breville. Featuring a solid die-cast stainless steel construction, its thermoblock heating system maintains…"
The best value machine as rated by the authors was the Nespresso D120 which editors noted is strong in many areas such as the following:
"Featuring a unique retro design, this Nespresso automatic espresso machine produces rich, creamy coffee in just a couple minutes. It uses pods, so you get consistent results every time"
Makes milk-based drinks like cappuccinos and lattes
Energy-saving mode
1-liter removable water tank
Adjustable cup support holds espresso shot or macchiato glass
19-bar pump gives a full-bodied coffee with thick crema on top "
Next, the best budget award from the Best Espresso Machine Reviews was the Bialetti 6799. Commentary from the review of this maker comment, "Cleanup is simple but requires hand-washing, and you'll have to wait for the pot to cool down first. For an inexpensive device, only $23, this Bialetti stovetop espresso maker produces high-quality coffee and looks uniquely attractive at the same time."
Delonghi was the only company in the Espresso Machine Ratings that was listed twice. The top price among these products was listed at $799 while the lowest priced unit was $23.
10rate.com conducts reviews in various product and services categories and publishes "Expert Top 10 Lists for Everything in your life." The company's web site strives to "Make it Easy" to select from the hundreds of choices there are in the product and service market place. All products and services are thoroughly researched by the companies expert editors prior to receiving a rating on a 1-10 scale. In addition to product reviews the companies editors write guidelines, buying guides and articles on various topics surrounding each product or service category covered to help educate the consumer.
###