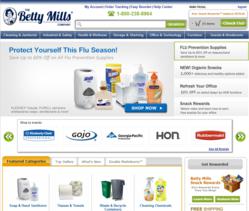 Our Top 10 Lists continue to be a leading industry and customer reference of what is popular and trending in the business supplies marketplace
San Mateo, CA (PRWEB) August 03, 2012
The Betty Mills Company ® one of the nation's leading online B2B shopping destinations, and famous for its Snack Rewards™ loyalty program, today announced its Top 10 Janitorial Supplies and Top 10 Office Supplies rankings for the second quarter of 2012. The rankings are determined by those items which were purchased by the most unique customers during the period.
Betty Mills CEO, Victor Hanna said, "Our Top 10 Lists continue to be a leading reference of what is popular and trending in the business supplies marketplace and we look forward to sharing future Top 10 lists with our customers and the business products community."
Betty Mills Top 10 Janitorial Supplies List for Q2 2012
1. Regular-Capacity SofPull® Center-Pull Hand Towels
2. Jr. Capacity SofPull® Center-Pull Hand Towels
3. High-Capacity SofPull Center-Pull Hand Towels
4. Ettore Squeegee Off Soap
5. Angel Soft ps Ultra™ Premium Embossed Bathroom Tissue
6. Smokers' Outpost Seated Cigarette Receptacle
7. GOJO TFX™ Premium Foam Handwash
8. Ettore Grip'n Grab
9. SCOTT® Multi-Fold Towels
10. Libman Wonder® Twist Mop Refills
Betty Mills Top 10 Office Supplies List for Q2 2012
1. KIMTECH Touchscreen Cleaning Wipes
2. Maxell High Grade VHS-C Videotape Cassette
3. Avery Photo Pages for Six 4 x 6 Mixed Format Photos
4. Avery Easy Peel Laser Address Labels
5. Universal File Folders, 1/3 Cut Assorted
6. Universal Small Binder Clips
7. Universal Economy Bookends
8. Hammermill Great White Recycled Copy Paper
9. Sharpie Magnum Oversized Permanent Marker
10. Universal Copy Paper, 92 Brightness
About Betty Mills
The Betty Mills Company® is a leading B2B e-commerce company and one of America's leading suppliers of cleaning, facility, MRO, break room, office snacks and health and wellness products. Offering over 100,000 brand-leading products shipped right to your door from over 55 U.S. warehouse locations.
With Betty Mills everyday low prices, Snack Rewards™ Customer Loyalty Program and Double Markdowns® Specials, Betty Mills offers a comfortable and easy online shopping experience for everyone who likes to buy smart and save big! Betty Mills Company's headquarter is located in San Mateo, CA. For more information, please visit BettyMills.com.
# # #