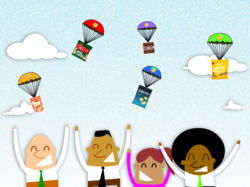 our customers are introducing thousands of new snack ideas into the break room
San Mateo, CA (PRWEB) July 18, 2012
The Betty Mills Company ® one of the nation's leading online B2B shopping destinations, and famous for its Snack Rewards™ loyalty program, today announced its top 10 selling snacks for the second quarter of 2012. The ranking is determined by the most unique customers which purchased the items during the period.
Betty Mills CEO, Victor Hanna said, "Our Top 10 Snacks list continues to prove that America still likes the old time favorites, however the organic and all natural snacks are quickly scaling up the ranks and will certainly make an appearance in Betty Mills Top 10 Snacks list soon. With Snack Rewards, our Free Office Snacks loyalty program, our customers are introducing thousands of new snack ideas into the break room. We are changing the way America snacks."
Betty Mills Top 10 Snacks List
1- Folgers Classic Roast Regular, Ground, 33.9 oz
2- Land O Lakes Mini Moo's Creamer, 5oz
3- Keebler Sunshine Cheez-It Crackers, 1.5oz
4- Snyder's Mini Pretzels Fat Free, 1.5oz
5- Nabisco Variety Pack Cookies, 1.75oz variety pack
6- Keebler Sunshine Famous Amos Cookies, 2oz
7- M & M Mars Strawberry Twizzlers, 2 lb Tub
8- Julian's Recipe Natural Butter Waffles, Vanilla
9- Frito-Lay Grandma's Vanilla Creme Cookies, 2.25oz
10- Campbell's Soup Crackers, Cheddar, 1.5oz
About Betty Mills
The Betty Mills Company® is a leading B2B e-commerce company and one of America's leading suppliers of cleaning, facility, MRO, break room, office snacks and health and wellness products. Offering 130,000 brand-leading products shipped right to your door from over 55 U.S. warehouse locations.
With Betty Mills everyday low prices, Snack Rewards™ Customer Loyalty Program and Double Markdowns® Specials, Betty Mills offers a comfortable and easy online shopping experience for everyone who likes to buy smart and save big! Betty Mills Company's headquarter is located in San Mateo, CA. For more information, please visit BettyMills.com.
# # #