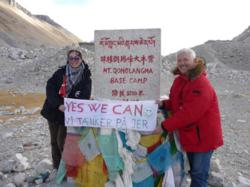 Famous Tibet tourists' attraction of the Mt. Everest Base Camp, can't wait to see!
(PRWEB) February 15, 2013
Following last release of top 10 Tibet tourists attractions section A, Tibet Ctrip (tibetctrip.com) releases another new list of section B with top Tibet travel destinations! These places are great for travelers looking for an in depth cultural experience while getting in touch with some of Tibet's marvelous mountain scenery. Thanks to an improving tourist infrastructure, world-renowned sites like Mt. Everest are more accessible than ever!
1. Yarlung Valley. Legend has it that Tibetan society originated in Yarlung Valley thousands of years ago. Tsetang, located in Yarlung Valley, was Tibet's original capital long before the arrival of Buddhism. Tibet's first palace can be found here and is where legend says that Buddhism was first handed down from the heavens.
2. Tashilhunpo Monastery. Located in Shigatse, Tibet's second largest city, this sprawling monastery is the seat of the Panchen Lama. Built in the 1400's, the main attraction is a towering statue of the Maitreya Buddha. For those looking to learn about Tibetan culture, this is a great place to see Buddhist pilgrims from all over!
3. Lake Yamdrok. One of Tibet's largest lakes, this holy lake shines a blue hue on sunny days is surrounded by snow-capped mountains. Before the construction of Potala Palace, Tibetans would venture here to lie to rest the remains of Dalai Lamas.
4. Mt. Everest. At 8,844.43 meters high Mt. Everest is the crown jewel of any Tibet tour. Sitting on the border between Tibet and Nepal, its base can be visited from both sides. Adventurous travelers can even take a four day trek from Old Tingri to Mt. Everest Base Camp.
5. Mt. Kailash. This mountain is a pilgrimage site for Hindus, Tibetan Buddhists, and followers of the ancient Bon religion. It is said that the trek around its base purifies ones soul. Regardless of faith, travelers the world over are taken by its spectacular views.
For those who are travelling to Tibet for greater insights into human and natural heritage, these destinations are essential to a tour of Tibet! Learn about Tibetan history in Yarlung Valley and at Tashilhunpo Monastery, see cultures come together at Mt. Kailash, and witness the magnificence of Earth's tallest mountain. With so much to see, Tibet is a place that will certainly not disappoint!
For more information on how to set up a tour, contact a Tibet tour agency. Devin Moore authored this article; Devin is a Tibet travel enthusiast who is training to become an econometrician. Get to know Devin Moore.