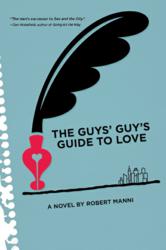 According one time single-in-the-city Manni, a Guy's Guy is a modern day man's man
New York, NY (PRWEB) August 08, 2012
Robert Manni, author of The Guys' Guy's Guide to Love (Live Oak), introduces 'Guy Lit' a new genre of pop fiction in this must-read book of the summer. Neither chick-lit nor lad-lit, the novel transcends either category to establish its own genre of Guy Lit – articulated in the voice of Guys' Guys, the contemporary version of yesterday's Man's Man. The Guys' Guy's Guide to Love (Live Oak), is a novel about modern love, sex and relationships set amidst Manhattan's Madison Avenue from a man's point of view, perfect for a fun and frothy summer read.
According to one time single-in-the-city Manni, a Guy's Guy is a modern day man's man, without the machoism, who instead embodies a healthy dose of unassuming strength and emotional intelligence. A guy that's comfortable in his own skin, and fully embraces the ascent of women. The novel explores the new masculinity of yesterday's "Man's Man" becoming today's "Guy's Guy"—a return to the casual confidence and seductive integrity of the classic male, but updated to reflect the belief that everybody wins when men and women can be at their best. Guy Lit speaks to this newly defined audience without losing any of the fun of being a guy.
See this new video about what is considered one of the 100 best books of summer, when the tables are turned on the author and Manni answers provocative man-about-town dating questions.
The Guys' Guy's Guide To Love is a sexy romp through the fast-moving, high-stakes world of Madison Ave. When Max Hallyday, a rising New York adman, joins a glitzy Midtown agency, he knows the game is winner-takes-all. But when his best friend Roger, a serial womanizer, seduces Max's billionaire client and puts his career in jeopardy, Max strikes back. He pens a column exposing the 'Rogers' prowling the city: The Guys' Guy's Guide to Love
"I wrote the book for a broad audience, but for men, I wanted to give them a voice in articulating their feelings about dating and relationships." said Robert Manni. "The Guys' Guy's Guide To Love isn't exactly a male 'Sex and the City' because guys don't sit around in groups of four drinking cosmos and discussing women. They just don't do that." Manni hopes this will be a top 100 book this summer.
Manni's web site, robertmanni.com, includes a link to his blog "On Life, Love and the Pursuit of Happiness" as well as background on the book. With over 20 years of experience with the majors in the advertising industry, and known for creative campaigns including Zappos, Tequila 1800 and Three-O Vodka, Robert Manni is currently President of BrandEnable, a marketing consultancy in New York City. He can also be heard on ABC Radio's new lifestyle station Men's Life in conjunction with Slacker, Inc., with a featured show on dating and relationships.
"Robert Manni has a message for his fellow men. You've got some catching up to do…His words of wisdom on that subject are woven throughout his first novel, 'The Guys' Guy's Guide To Love'." ~ The New York Post
"The author inoffensively explores the nature of men and women, the wily ways of seduction, and how contemporary culture has evolved romantic mores and enhanced (and complicated) the dating dance." ~ Publishers Weekly
"Prepare to man up and hunker down for this exuberant guided tour of the male sexual psyche"
~ Ian Kerner, NY Times best-selling author of She Comes First and Love in the Time of Colic