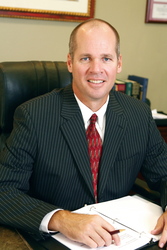 The preparation we put into every case is why we are able to achieve these kind of results. This is the kind of approach our clients want when we take a case to trial."
San Diego, CA (PRWEB) March 30, 2011
The California injury law firm of ESTEY BOMBERGER has (http://www.estey-bomberger.com) been recognized for winning one of the largest U.S. verdicts of 2010, based on a nationwide report published by American Lawyer Media's VerdictSearch, a leading guide to U.S. courtroom verdicts.
The recently published book, Top 100 Verdicts of 2010, reports that attorney Stephen Estey of ESTEY BOMBERGER secured one of the top 100 largest verdicts of 2010 with his winning of the John Doe v. Eastfield Ming Quong, Inc. case, on behalf of a victim of child molestation, sexual assault and negligent supervision.
The $30 million verdict handed down by a Santa Clara County, CA jury in August, 2010 (Case No. 106CV070642), ranked 70th on the list, and was the tenth largest single plaintiff case, the largest single plaintiff sexual abuse verdict, and the largest negligence verdict.
The Top 100 Verdicts of 2010 report includes all types of cases, including both plaintiff and defense actions, class actions, intellectual property, mass torts, and other claims.
John Doe, the plaintiff in the case, was repeatedly sexually assaulted by his foster father for several years in the late 1990's. The plaintiff was only 11 years old when he first came under the care of his foster father in 1995.
The plaintiff sued Eastfield Ming Quong, Inc., which was doing business as EMQ Children and Family Services; Daybreak Childcare Network Inc.; Giaretto Institute, a private foster family agency, and the perpetrator. EMQ and Daybreak reached settlements prior to trial.
Jurors found Giaretto Institute 75% responsible for the injuries the plaintiff suffered, and the perpetrator 25% responsible. Giaretto is liable for $22.5 million.
"We take great pride in every case we handle," said Stephen Estey, founding partner of ESTEY BOMBERGER. "The preparation we put into every case is why we are able to achieve these kind of results. This is the kind of approach our clients want when we take a case to trial."
The VerdictSearch Top 100 Verdicts of 2010 was included as a special section in the March 7, 2011, issue of The National Law Journal.
About ESTEY BOMBERGER
The California injury lawyers at ESTEY BOMBERGER represent victims of serious injury and wrongful death due to the negligence or willful misconduct of others. The attorneys have successfully handled many complex and challenging cases against individuals, corporations and governmental agencies. For more information, visit http://www.estey-bomberger.com or http://www.california-injury-lawyer-blog.com.
###