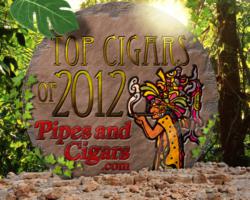 We decided to just focus on the best cigars released this year, and I think it will really help smokers who are looking for great new cigars to add to their collections.
Albany, NY (PRWEB) December 21, 2012
PipesandCigars.com is a leading online tobacconist specializing is offering the Internet's widest selection of the best cigars, humidors, pipes, pipe tobacco, and all types of smoking accessories. The company has released their list of the top 25 cigars of 2012. The list is comprised of nationally distributed cigars that were introduced to the market in 2012, and was selected by a panel of very experienced smokers on the staff - Marketing Director Travis Lord, Master Blender Russ Ouellette, Senior Cigar Advisor Jason Rubino, Graphic Designer Josh Crystal, and General Manager Zak Medwin.
The list includes a number of premium blends, including released from major manufacturers like Partagas cigars, Perdomo cigars, Rocky Patel cigars, and Oliva cigars, as well as a variety of boutique cigars like Rodrigo cigars, Paul Stulac cigars, La Duena cigars, and 262 cigars. The list also includes limited edition releases from brands like Viaje cigars and Tatuaje cigars.
Many blogs, websites, and publications in the cigar industry release lists of the best cigars of the year, and they are always hotly anticipated by smokers who are looking for more information and expert opinions on which cigars are the best. PipesandCigars.com released the list via their TalkingTobacco.com blog where they frequently post cigar reviews, pipe tobacco reviews, industry commentary, legislative news, and other tidbits about cigars, pipes, and pipe tobacco.
"Putting together this list was a great exercise" said PipesandCigars.com Marketing Director Travis Lord. "We all got to smoke a whole bunch of really good cigars, and the focus of creating a best of the year list got us all really concentrating on each cigar. We ended up with a great collection of smokes with a huge amount of variety. There is such a wide range of styles and flavors, but they all have an element of what we all enjoy in cigar smoking that made us select it to the list. The other thing I really like about our list is that we chose to only focus on cigars released in 2012. I know many other publications make their lists with the entire universe of cigars, but for me, that's just too broad. Also, theoretically, some of the same few cigars should be on those lists every time, like my all-time favorite cigar the Padron 1964 Anniversary Series Monarca Maduro, which would make my best of list every year. We decided to just focus on the best cigars released this year, and I think it will really help smokers who are looking for great new cigars to add to their collections."
The year 2012 featured a nearly unprecedented number of new cigar releases. PipesandCigars.com reports that they have added over 60 new brands to their website this year. In a year filled with so many releases, the competition for slots on this list was heavy. PipesandCigars.com also included a number of honorable mentions with their list to highlight some quality brands that were not selected to the top 25.
Smokers interested in view the full list or trying some of the cigars featured on it should visit PipesandCigars.com, TalkingTobacco.com, or call PipesandCigars.com's customer service department at 800-494-9144.
About PipesandCigars.com: PipesandCigars.com is an industry-leading online tobacconist dedicated to bringing customers the widest selection of cigars, pipes, pipe tobacco and tobacco accessories. The company features premium cigars from brands like Ashton cigars, Padron cigars, Montecristo cigars, Macanudo cigars, CAO cigars, Arturo Fuente cigars, and many more. They are the low-cost leader in pipe tobacco on brands like GL Pease, Sam Gawith, McClelland, Captian Black, Borkum Riff and many more. They feature thousands of pipes, ranging from inexpensive Corn Cobs and Dr. Grabow pipes all the way to the premium brands like Dunhill, Peterson and other fine hand-carved pipes.