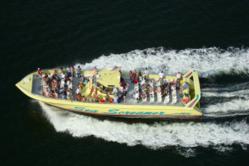 Many tour companies in Northwest Florida offer glass bottom viewing areas for people to see dolphins from below.
Destin, FL (PRWEB) January 17, 2012
Dolphin watching has always been a popular activity for tourists visiting the Gulf Coast, but there are several different ways to experience the presence of these fun animals. Seeing dolphins from a boat is always popular, but what would it be like to actually swim in their presence? TripShock.com has put together a list of the best 5 dolphin related activities while visiting Northwest Florida.
Although it is illegal to actually touch a dolphin in the wild, it is ok to swim in their presence. Water Planet USA out of Panama City Beach is the only company on the Gulf Coast that offers a unique experience like this. The instructor will educate and train each customer the proper way to interact with dolphins, which includes a live swim near Shell Island. Availability is limited so it is recommended to book online in advance for this experience.
2. Dolphin Tour on Waverunners
Over the past few years, many watersport companies have started to offer dolphin tours on waverunners because it gave customers a closer look at the dolphins. It's also more fun to drive on a waverunner instead of a big boat! Most waverunners can hold up to 3 people if the weight is acceptable. Dolphins tours usually have 10 or so in a group, but the fewer the better.
3. Glass Bottom Boat Dolphin Cruises
Many tour companies in Northwest Florida offer glass bottom viewing areas for people to see dolphins from below. These boats are also great for small children, seniors and handicap customers. Most cruises are two hours long and narrated so tourists can hear about the history of the area.
4. Kayaks
Renting a kayak is a very inexpensvie way to see dolphins. Dolphins are not hard to find on the Gulf Coast and the locals are helpful in finding them. Most kayaks have 2 seats and include all the necessary safety equipment.
5. Gulf World Marine Park Dolphin Shows
Gulf World Marine Park is a large aquarium that offers dolphin shows and dolphin swims in Panama City Beach. Customers can actually touch the dolphins since this park is regulated, which offers a unique and fun experience. Shows are offered daily during the summer season. Reservations are required so be sure to book in advance.
About TripShock.com
TripShock! ® is the one and only travel agency that enables travelers to book hotels, tours, and activities online directly for the Northern Gulf Coast. TripShock! offers trusted reviews from real travelers, photos, videos and other planning tools to help create the perfect Gulf Coast vacation. TripShock! attracts more than 500,000 visitors annually and partners with over 100 activity and lodging providers from Florida to Louisiana.
###