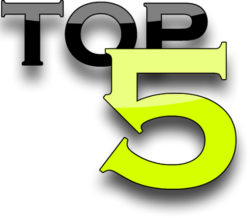 San Francisco, CA (PRWEB) May 18, 2012
The web hosting review site TCWH announces the Top 5 Web Hosting for 2012 rated based on web hosting features, uptime, speed, support and price, from their editors' real experience and the 2115 reviews submitted by the verified customers.
By the first quarter of 2012, there has been approximately 300,000 shared web hosting providers over the Internet, but actually finding a trusted web host becomes more and more complicated. 98% of these web hosting providers have only 2-3 staffs. Usually, they just start the businesses by utilizing a reseller hosting plan or just renting a cheap dedicated web server then resell to thousands of clients. The purchase with such kind of web hosts is absolutely risky.
As introduced by TCWH, this is the reason why they spent a lot of money and energy on reviewing mass of web hosts by themselves. They add the qualified web hosts into their web hosting provider directory, write the in-depth review for them, allow customers to submit the review, and verify each review seriously.
After reviewed 200+ branded web hosts and received over 2000 real customer reviews, TCWH had come out the list of Top 5 Web Hosting providers. They are WebHostingHub, BlueHost, InMotion Hosting, Arvixe and GreenGeeks. This list is designed to help people find the best web hosting deal, saving the time and money from a bad choice.
To learn more information about Top 5 Web Hosting with editorial review, real customer review, discount, and secret revealed, visit http://www.top-cheap-web-hosting.com
About Top-Cheap-Web-Hosting.com
Top-Cheap-Web-Hosting.com (TCWH) is a leading web hosting review website, rating web hosts independently based on the true experience and the real customer reviews.