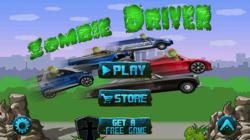 ...the application[Zombie Driver] provides an enhanced gaming experience. But unlike any other of the top apps, it's filled with zombie racing thrills.
Hollywood, FL (PRWEB) June 13, 2013
Emerging game company Dream Bot Studios has developed another fun and exciting game. And staying true to the studio's mission, the application provides an enhanced gaming experience. But unlike any other of the top apps, it's filled with zombie racing thrills.
The new game is called Zombie Driver." Like its predecessors Flicked Off at the Movies and Turbo Train, it is a multiplayer racing application that allows gamers to compete with their online friends. And same as the first two games, it was also released with two versions – one for iPhone and iPod and another for iPad.
Zombie Driver is an easy yet addictive game, Dream Bot Studios said. Unlike other zombie games, it isn't about eating or scaring the online human populace, it explained. Rather, it stated that it's an app wherein a player just needs to control the speed of the zombie's car through mountains and hills. However, it added that the gamer must also outrun the Zombie Police or else, no level-up would be taking place.
Meanwhile, when asked what makes Dream Bot Studios different from all the other game companies nowadays, its CEO, Markus Skupeika, responded that the fact that it's a self-funded game studio is basically what makes it unique.
And in a more serious manner, he added, "Dream Bot Studios is an innovative studio looking to make our fans feel an experience they never had before in the palm of their hands. Innovation is expensive, especially if it doesn't work initially. As a self funded game studio from Hollywood, Florida we are open to change, but we stick to our mission very closely to bring exciting mobile gaming to the world, all from our studio here in south Florida."
The company assured that with its mission clear and on top of its priority list, it will release games of fun and adventure in the coming days. And as it asserted, gamers could expect that it would bring them an entirely new gaming experience that they could enjoy anytime and anywhere.
For more information about Dream Bot Studios, the company encouraged the public to visit its official website at DreamBotStudious.com.
To download Zombie Driver, it shared that gamers could go to the Apple App Store for iPhone/iPod and iPad versions.