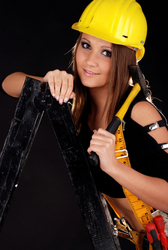 We are looking to build a directory of the best contractors in Washington, DC
Washington, DC (PRWEB) June 27, 2010
Sharperoo, a meeting place for homeowners and contractors, today announced the official launch of its DC site, which contains listings of the top contractors in DC. Included are electricians, plumbers, landscapers, and a host of other contractors, available at http://www.sharperoo.com/washington-dc.
"We are building a directory of the best contractors in Washington, DC," said Brad Stephenson, a spokesman for the company. "We have been meeting contractors in the District for the past six months and found many successful businesses in the area, who deliver great work and great customer service. We want to make sure that homeowners in Washington, DC know who these contractors are."
Contractors can join Sharperoo for free, create an online profile for their business and share the best examples of their work by visiting http://www.sharperoo.com/user/sign-up.
About Sharperoo
With over 1 million profiles of contractors throughout the United States, Sharperoo is the leading online directory of contractors throughout the United States. Homeowners who visit Sharperoo have free and open access to public data on contractors, community-driven reviews and information that the contractors themselves have provided. For contractors, Sharperoo provides a quick and easy way to create and grow a Web presence. Through the freely available tools on Sharperoo, contractors can easily create and share information about their businesses and work they've done. Started in August 2009, Sharperoo was incorporated in the state of Arizona, January, 2010 after an initial round of seed funding.
# # #