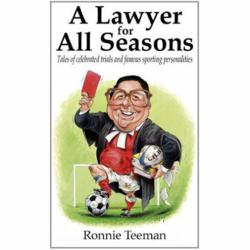 Leeds, England (PRWEB) July 11, 2011
Yesterday, Ford & Warren Solicitors hosted the book launch of A Lawyer for All Seasons, the long-anticipated memoir of Ronnie Teeman.
Ronnie Teeman, the longest-serving solicitor in Leeds has represented or been involved with some of the highest profile sportsmen in the UK. A Lawyer for All Seasons tells the story of a man who achieved national and international renown, especially in the world of sport, by representing a string of household names. In the UK alone, he was involved in famous court cases like the Billy Bremner libel suit against The Sunday People and John Giles' successful suing for his portrayal in The Damned Utd.
In attendance at the launch included Harry Jepson OBE; President of Leeds Rhinos and noted ambassador for the club and sport, as well as the Chairman of the Rugby League Conference, current Chief Executive of Leeds Rugby; Gary Hetherington, English Rugby Union and Rugby League Footballer of the 50s and 60s; Derek Hallas and former Football League Chief Exec David Oxley CBE (who also provides the foreword for the book).
###