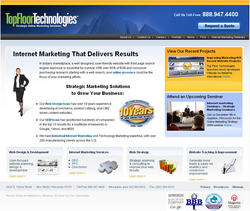 The results we have achieved from our partnership with Top Floor Technologies in 2009 have been outstanding
Octonto, WI (PRWEB) December 7, 2009
Unlimited Services, a Wire Harness and Cable Assembly manufacturer, added six new customers with a sales value of over $600,000 in 2009, a direct result from their online search engine marketing efforts provided by Top Floor Technologies.
"The results we have achieved from our partnership with Top Floor Technologies in 2009 have been outstanding," said John Herider, Sales and Marketing Manager for Unlimited Services. "We feel that our program with Top Floor is gaining momentum and we are excited about the potential to achieve even better results in 2010."
Unlimited Services contracts with Top Floor Technologies, a Search Engine Marketing and Web Development firm based in New Berlin, to conduct both their Pay Per Click (PPC) and Organic (non-paid) Search Engine Optimization (SEO) programs. Top Floor assigned both a PPC and SEO specialist to manage Unlimited Service's account and already traffic and contacts from the site have increased substantially.
When reviewing the last five months, total traffic to the Unlimited Services website has increased 22% and non-paid search engine traffic has increased 11%. More importantly, contacts from the website - contact form submissions and emails directly from the site - have increased 183%.
Top Floor's SEO Specialist Tony Verre sees this increase in contacts from the website as a result of targeting long-tailed keywords that are a core part of Unlimited Services business, such as "wire harness manufacturers" and "custom wire harness." Verre modifies the site's content and submits Unlimited Services into various industry-related online registries to build up the relevancy and trust the site has in Google's eyes.
"Users that are searching for these terms are clearly far along the sales funnel and once they reach out to Unlimited Services, they're very likely going to be ready to make a purchase or sign a contract," said Verre. "More important than the amount of traffic is the quality of that traffic."
Similarly, PPC Specialist Jo Stumpner has focused on pulling in more qualified visitors to the site through paid ads on Google. Rather than dwell on traffic levels, she has zeroed in on the conversion rate - or the clip at which visitors are contacting Unlimited Services from the site - which has increased over the last month by 108%.
"Since I started their PPC program, traffic has actually dipped, said Stumpner. "That doesn't concern me at all as long as the conversion rate is far outpacing the decline in traffic. In the end of the day, all that matters is if there is an increase in visitors taking the actions that you want them to take. If that's working you have a successful campaign."
Vice President of Sales and Marketing Tom Breen sees his Search Engine Marketing program with Top Floor starting to pay dividends.
"The results at this point reflect that Top Floor's efforts and strategy have been paying off!" Breen said. "I can hardly wait to see the results next quarter! We appreciate Top Floor's efforts on our behalf."
###