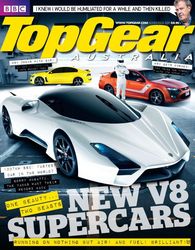 We all love to see limits probed
(Vocus) November 4, 2010
The ongoing battle to claim the fastest car in the world takes pride of place as cover story of the November issue of BBC Top Gear Australia. The other 208 pages are no slouch either, offering the unabashed man-love of all things motorized delivered with the trademark snark readers have come to expect.
"We all love to see limits probed," writer Paul Horrell says of the independent Shelby Supercar Company's vehicle that set the world production-car speed record in 2007, only to lose it this year to a car built by Volkswagen. "Goliath was not only admitting that David existed, but felt it necessary to take up his mighty cudgel against David's catapult."
It is precisely this kind of writing, at once defiantly florid but persuasively vivid, that draws revheads of all stripes to each hands-on issue of Top Gear Australia.
Top Gear Australia is THE magazine for people who want their jumbo platter of gearhead goodness covered lovingly with a spicy BBQ sauce of Australia's most interesting cars, people and experiences. It is available via subscription at magshop.com.au, the one-stop source for discount magazines subscriptions, books, gift ideas and more.
Cars, Cars and More Cars
Top Gear Australia hosts Steve Pizzati and Ewen Page put new muscle cars from Holden and Ford through their paces while tearing each other new ones, even as magazine staff writer James Stafford rides shotgun with a rally team hurtling through the Western Australia outback in a souped-up Hummer.
Of course the Top Gear Magazine team put the newest cars through their own unique paces. From an electric concept car by Jaguar to Volkswagen's new Touareg, specs and driving reports whet the automotive appetite for the flashest and fastest on the roads of Australia, the United Kingdom and America.
And then there's that DeLorean. When staffer and 80's tragic Kurt McGuiness discovered that Aussie thriller writer Matthew Reilly owned the car featured in the Back to the Future films, McGuiness not only persuaded him to give it up for a drive through Sydney's CBD, but donned a Marty McFly-inspired orange sleeveless puffy vest to do so. "I feel like a knob," he writes cheerfully, "but I can see why [Reilly] bought it; he's as big a geek as I am."
Clarkson, Hammond, May… The Stig Stays on the Tube
One of Top Gear Australia's most eagerly awaited features is The Boys, a monthly column each from motoring journalist Jeremy Clarkson, his Top Gear TV show co-creator James May and co-presenter Richard "Hamster" Hammond.
In this issue, Clarkson writes of his recent adventures driving the Ferrarri 599 GTO, which he's nicknamed "Kato" after Inspector Clouseau's combative manservant in the Pink Panther films. "It hides in the fridge all day," Clarkson explains, "and then when you go to get some milk it leaps out and tries to break your spine." And after all that, he still calls it "the best drive of my life."
For his part, May urges being true to one's self and ignoring resale value when spending hard-earned money on a quality car. "Buying a brand new car is clearly an idiotic thing to do anyway," he points out. "Buy the car you want. The next bloke can whistle Dixie."
Hammond agrees, sort of, egging his readers on to spend large on a car with "loan terms that would bail out Greece in order to take the keys of the one car on the forecourt you knew you couldn't possibly afford but absolutely had to have." If the Top Gear has a motto, this very well may be it.
###