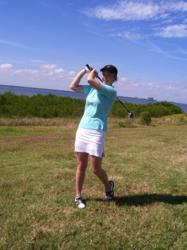 Top Golf Wedges Now Available At Blackmagicwedge.com
Nationwide (PRWEB) May 08, 2013
The full line of wedges and putters combined makes for some of the best golf equipment for the short game. The company wants to put the power of that innovation into the hands of players who are serious about their game.
The Black Magic clubs have gotten many golf equipment reviews by all sorts of players, ranging from amateurs, to scratch golfers, to club pros. The praises come consistently on how easy it is to get short shots in the air from all types of lies, and for the bunkers, where players need top golf wedges to shoot lower scores.
"We know how frustrating it is to get the fundamentals of the game down. There are two sides, the 'rules of the game' and the 'skill set' the game unequivocally requires. There's no way any player can be successful at improving their game without thoroughly understanding those two elements. Now, getting the rules down isn't all that hard, but try to hit the ball straight and long off the tee or pitch it up from the rough or fairway to the green is an entirely different, difficult matter. Having the right golf equipment for your game can significantly help to eliminate mistakes and make the game more fun," a company spokesperson stated.
Blade Runner Golf sells a set of the top golf wedges that can limit many mistakes that players have with all the short shots from the rough or fairway. The golf equipment reviews state that the no hosel' design and the innovation engineering that eliminate shanks and reduces the chance of chunking. Many players have trouble with this, and it is for this reason that these wedges have been rated as the top golf wedges available by many pros and amateur alike.
"If you seriously want to transform your game and get out of being stuck in a rut, then try our clubs and see how much more control you have over the ball. It's remarkable to hear the stories of our customers. Given how innovative these golf wedges are, we fully expect them to deliver in a big way," the company spokesperson added.
About
Blade Runner Golf, Inc. Is a company that is very serious about the notion that a golfer's short game can make all the difference in his or her final score—and that players can take their short game to the next level if they only have the right club from which to choose. Black Magic's hybrid wedges Conforms to USGA Rules, but also helps golf enthusiasts find new precision and power as they make their way onto the putting green. Black Magic Wedge can be reached on the web at http://www.blackmagicwedge.com.
Contact:
Black Magic Wedge
2519 McMullen Booth Rd
Suite 510-129
Clearwater, FL 33761
Toll Free Phone: 877-799-6099
sales(at)blackmagicwedge(dot)com