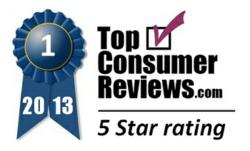 To assist consumers with choosing a home security system, TopConsumerReviews.com has closely analyzed several different companies.
Kansas City, MO (PRWEB) May 24, 2013
TopConsumerReviews.com announced the best home security companies in Kansas City for 2013. TopConsumerReviews.com provides independent reviews for thousands of products, including home security systems reviews, in order to help consumers make the best decision possible.
While many people think of Los Angeles and New York City as dangerous cities, they're often surprised to learn that Kansas City poses a much higher rate of violent crime. In fact, according to the FBI Uniform Crime Statistics Report, 1 in every 84 residents will be a victim of a violent crime in Kansas City, and it's estimated to be in the top ten most dangerous areas in the United States. While the suburbs of this city typically have dramatically different statistical crime rates, those that live in and around Kansas City need to protect themselves and their families.
Experts recommend installing exterior lighting and deadbolts for improved protection at home. However, a home security system provides the greatest level of protection available. To assist consumers with choosing a home security system, TopConsumerReviews.com has closely analyzed several different companies.
Two of the best home security systems available to Kansas City residents include FrontPoint Security and Protect America.
FrontPoint Security provides a quality wireless home security system that is also easy on the wallet. Money is an important decision factor and customers like no added installation costs and flexible contract terms available at FrontPoint. Remote access capability and a strong monitoring service are other features that stand out with customers. FrontPoint Security is a top choice for home security needs.
Protect America provides the latest technology and a 24 hour nationwide monitoring service that customers can feel good about. Their budget friendly free equipment and no installation charges make this an easy choice for those on a budget. The system will fit into a home or apartment and is completely customizable. Protect America puts their customers first and provides a straightforward and affordable approach to home security.
To find out more about home security companies, including reviews and comparison rankings, please visit the Home Security Systems category of TopConsumerReviews.com at http://www.topconsumerreviews.com/home-security/.
About TopConsumerReviews.com
TopConsumerReviews.com, LLC is a leading provider of independent reviews and rankings for thousands of consumer products and services. They offer the latest on Home Security including information, education, and ratings for the best home security systems available today.