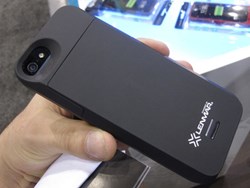 Denver, Colorado (PRWEB) February 16, 2013
iPhone 5 is a great piece of technology, everybody agrees with that, but battery life becomes an issue for owners interested in entertainment, gaming, video playback, web browsing and chat at the same time.
According to http://www.iPhone5Batterycase.net for the multitasker user, a battery case for iPhone 5 is an appealing feature, but the Lightning Connector makes the purchase decision more difficult, since consumers are concerned the product purchased might not be premium quality or fully fit for their smartphone.
Despite the significant appeal for i Phone 5 battery case products, there's still a holdup in the market, as Apple's MFI certification process is taking longer than expected. However, the few products that have made their way to reviewers were good enough to paint a picture of what these power accessories can deliver. The iPhone5batterycase website takes a good look at some of the most advertised battery cases for iPhone 5, ensuring these are fully compatible and safe for use.
The website has been reviewing battery cases for iPhone 5 for the past few weeks in an attempt to find the product that delivers most bang for users' bucks, in terms of design, quality, durability and actual power. The team of reviewers is made of experts in tech products and iPhone 5 users with previous experience in using power accessories for Apple's smartphone. The reviews delivered take a close look at what every buyer is interested in and try as much as possible to explain why some aspect matters in a hassle-free way.
Out of the variety of power accessories available and reviewed, the Lenmar Meridian iPhone 5 battery case was identified by the website as one of the most inspired purchases of its kind. At 138mm x 65mm x 15mm, the Lenmar Meridian battery case for iPhone 5 does meet requirements for design, functionality, power and durability. It comes in three colors Rubberized Black, Glossy White and Metallic Red and provides both protection and a power boost. The in-built battery has a 2300mAh capacity, which can double the battery life of an iPhone 5.
The iPhone 5 Battery case website delivers comprehensive reviews of the latest accessories designed to protect and extend the device's battery life. Reviews include tech specs, product comparisons, discount alerts and news. For every product reviewed, writers check into the main selling points users are interested in: mAh power, design, brand popularity, durability, price tag, discounts, MFI certification, consumer feedback and the list goes on. iPhone 5 battery cases under the spotlight are both premium and low-cost, made by popular or unknown brands.