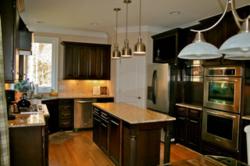 Winston-Salem, NC (PRWEB) February 16, 2012
When Michael and Amanda Troutman set out to build their own home, they did what most prospective homeowners do—they went to the Parade of Homes, they solicited recommendations from friends and colleagues. One name kept coming up: Mitchco, Inc. Les and Geoff Mitchell of Mitchco have been in business for more than 30 years. In that time, they've built more than 300 homes for their clients, often building two and three homes for the same families.
"We looked at about a dozen contractors," says Amanda Troutman, who lives with her husband and their two small children. "We narrowed it down to four or five, who we each interviewed separately. When we compared our impressions, Geoff and Les were our overwhelming choice. They really wanted to hear what our vision was."
The home that Mitchco built for the Troutmans is a four bedroom, three and one-half bath, with an open plan and a master suite on the main floor. The home sits on a one-acre wooded lot in the River Way community outside of Winston-Salem, North Carolina.
"We bought the plan," Amanda says, "Then Les and Geoff went over it with us, adding things to it that we hadn't even thought of." The result of these early planning sessions was that there were virtually no cost overages in the building process. "By adding to the plan from the start, we got a mortgage that covered all the extras."
Amanda says that the entire building process was a pleasure. Geoff and Les worked with them to create their dream home. "I've talked to my friends, and they all have horror stories about their builders. Some people swear off their builders as they would swear off a root canal. I don't have a single negative thing to say." Indeed, the Troutmans became so close with Geoff and Les that they invited them to their new home on Christmas morning.
Amanda says she is especially pleased with how the Mitchells made the most of the space, converting an open attic space into a home gym. Even the family dog is happy with the new home: Geoff and Les added a doggie condo with a wrought iron gate in the empty space under the staircase.
"I never want to move," says Amanda. "But if we do, Geoff and Les will build our next home."
About Mitchco, Inc.
Mitchco, Inc., has 30 years of experience in building custom homes as well as commercial facilities. Their staff is dedicated to making the building process easy and painless, and they partner with their clients to provide the best building experience possible. They serve the Triad area, including Greensboro, Winston-Salem, and Kernersville, North Carolina.
###