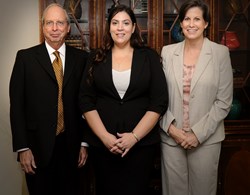 Our firm is proud of its culture of diversity and inclusion which has led to increased opportunities for diverse lawyers to excel and thrive, and has placed diverse lawyers in positions of leadership
Birmingham, Alabama (PRWEB) October 10, 2013
The law firm of Christian & Small is pleased to announce it has awarded the second annual Christian & Small LLP Cumberland Diversity Scholar Award to Lisa Rameriz. The $5,000 award is given to a second year law student who has a competitive GPA, does not receive other academic assistance and shows a commitment to diversity in the legal profession. In addition to the academic scholarship, Christian & Small attorneys will serve as mentors to Ramirez through her studies at Cumberland and as she begins her professional career.
"Our firm is proud of its culture of diversity and inclusion which has led to increased opportunities for diverse lawyers to excel and thrive, and has placed diverse lawyers in positions of leadership," said Deborah Alley Smith, Managing Partner at Christian & Small. "Lisa is a wonderful example of academic success and commitment to the community."
Ramirez graduated from Mansfield University in Mansfield, Pennsylvania and is a Dean's List student at Cumberland. She is vice-president of the Hispanic Interest Law Student Association that strives to promote the understanding and awareness of the Hispanic/Latino culture and the legal issues facing these communities in the Birmingham, Alabama area. This summer, Ramirez clerked at the Freddy Rubio Law Firm. Ramirez is married with two children. "I am very grateful to receive the Christian & Small Diversity Scholar Award. This scholarship greatly helps my family with the financial obligations while I pursue my dream of a legal education."
The Honorable Judge John L. Carroll, Dean and Professor, Cumberland School of Law said, "Lisa Ramirez is a well deserving recipient of the Christian & Small LLP scholarship. She is a dedicated law student and a good example of the diverse students Cumberland School of Law seeks to educate. I thank the firm for investing in our students."
About Christian & Small LLP
Christian & Small represents a diverse clientele throughout Alabama, the Southeast and the nation with clients ranging from individuals and closely held businesses to Fortune 500 corporations. By matching highly experienced lawyers with specific client needs, Christian & Small develops innovative, effective and efficient solutions for clients. Christian & Small focuses on the areas of litigation, business and tax law.
Christian & Small LLP is a member of the International Society of Primerus Law Firms.