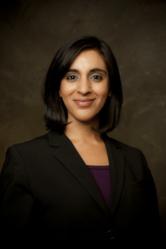 Her abilities and intuitive insight about the law make her a tremendous asset to her clients and to the Firm.
Phoenix, AZ (PRWEB) July 11, 2012
Burch & Cracchiolo, P.A. is pleased to announce that Melissa G. Iyer has been named shareholder. The Firm, founded in 1970, now has 42 attorneys.
"Melissa is a tremendous attorney and has had a prodigal career to date, including a key role in a landmark case before the Supreme Court of the United States," says Firm president Ed Bull. "Her abilities and intuitive insight about the law make her a tremendous asset to her clients and to the Firm. "
Iyer has been practicing with Burch & Cracchiolo since 2006 and has represented a number of governmental institutions and their elected officers including the Maricopa County Attorneys' Office, the Maricopa County Sheriff's Office, the Superintendent of Public Instruction, and the State of Arizona in a number of high profile cases involving a range of issues. In the U.S. Supreme Court case, Horne v. Flores, Iyer assisted in drafting all briefing, including the Petition for Certiorari, the opening and reply brief, and helped prepare Kenneth Starr for the oral argument which resulted in a landmark decision on the meaning of the Equal Educational Opportunities Act that ultimately reversed and remanded the case. Iyer was involved in the new trial before the U.S. District Court in 2010 and 2011, which is pending. In December 2011, Iyer prevailed in the high-profile "ethnic studies" case on behalf of the Superintendent of Public Instruction by defeating an administrative appeal brought by the Tucson Unified School District to defend the legality of its Mexican American Studies program.
Iyer's practice also emphasizes business litigation where she has represented numerous clients in cases involving a myriad of legal issues pertaining to contracts, securities, employment, and fiduciary responsibilities. Most recently, Iyer assisted in representing numerous investors who were defrauded in a Ponzi scheme that resulted in a seven-figure settlement in late 2011. In February 2012, Iyer second-chaired a jury trial with partner Jake Curtis that resulted in a $1.134 million dollar jury verdict for a commercial diving company that lost its business as a result of contract breaches and professional malpractice by its insurance agent.
Iyer received her J.D., cum laude from Southern Methodist University Dedman School of Law in 2006 and her B.A. from Southwestern University in Texas in 2002. Iyer serves on the board of directors of the Arizona Women's Leadership Forum and The Beatitudes Age link Program. In addition, Iyer was recently selected as a Rising Star in the 2012 edition of Southwest Super Lawyers.
About Burch & Cracchiolo, P.A.
Now with 42 attorneys in its Phoenix office, Burch & Cracchiolo, P.A. is one of the Southwest's premier law firms. The firm was founded 42 years ago by Haze Burch, now deceased, and Dan Cracchiolo one of Arizona's premier lawyers who continues to engage in a thriving practice. Today, the firms lawyers are among the most highly regarded and recognized leaders in the areas of business and corporate law, construction, estate and wealth preservation planning, family law, finance, labor and employment, litigation, real estate and taxation.
Serving corporate, governmental and individual clients throughout the Southwest and nationally, Burch & Cracchiolo is known for outstanding and cost-effective representation that emphasizes client objectives. A number of the firm's lawyers are recognized in Best Lawyers in America, Super Lawyers of the Southwest, Arizona's Finest Lawyers, Chambers USA, National Trial Lawyers and more. Additionally, the firm has been recognized as one of the Best Places to Work in Arizona.
Burch & Cracchiolo, P.A. is a member of the International Society of Primerus Law Firms.