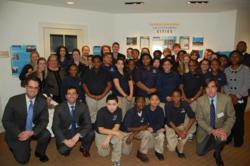 Bridgeport has played an important role in our firm's history. We are delighted to celebrate the City's past and help promote its future while, at the same time, fostering student education
Southport, Connecticut (PRWEB) February 06, 2012
The law firm of Brody Wilkinson PC is pleased to announce its support of "Our Nation's Generations 2012" in partnership with the Fairfield Museum. Our Nation's Generations, now in its fourth year, is an initiative designed to encourage students' understanding of their family and community history. This year's project paired students from The Unquowa School in Fairfield and New Beginnings Family Academy in Bridgeport in a collaborative learning exercise involving walking tours to explore Bridgeport's architectural heritage and history as a once thriving cultural, industrial and maritime center. The students worked with local teaching artists, photographers, writers and historians to document their findings and ideas about the City's future through photography and writing. Their works are now on exhibit at the Fairfield Museum through August 5, 2012.
"Bridgeport has played an important role in our firm's history. We are delighted to celebrate the City's past and help promote its future while, at the same time, fostering student education," said Brody Wilkinson senior principal Thomas J. Walsh, Jr. who serves as vice president of the Museum's Board of Directors and chair of its Finance Committee. A reception was held at the Museum last week to mark the exhibit's opening. Several Brody Wilkinson attorneys attended the event.
About Brody Wilkinson PC
Brody Wilkinson PC represents individuals, families, businesses and non-profit organizations in Connecticut. Based in Southport, the firm has 22 attorneys who work closely with clients to identify and evaluate their legal needs and create tailored solutions to address their specific circumstances. Brody Wilkinson serves a diverse group of clients including privately held businesses, family offices, financial institutions, real estate developers and investors, public companies with specialized needs, health care providers, entrepreneurs and charitable organizations.
The firm assists these clients in areas such as entity formation, financing, mergers and acquisitions, contracts, taxation, lending, workouts and reorganizations, business disputes and litigation, commercial real estate investment and leasing, environmental, land use and zoning, employment and employee benefits. In addition, the firm provides sophisticated and personalized service to individuals and families in the areas of estate and tax planning, estate and trust administration, charitable giving, business succession planning, estate and trust litigation, conservatorships and guardianships, family foundations and residential real estate. The firm assists many clients in maximizing transfers of wealth, minimizing the effects of estate and gift taxes, and planning for incapacity. For more information, please visit http://www.brodywilk.com.
Brody Wilkinson PC is a member of the International Society of Primerus Law Firms.
###