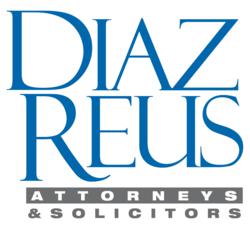 Miami, Florida (PRWEB) January 23, 2012
Diaz Reus & Targ, LLP partners Michael Diaz, Jr., Gary E. Davidson and Carlos F. Gonzalez were selected the 2011 "Most Effective Lawyers" in international law by The Daily Business Review's editorial staff.
The Review acknowledged the work of 85 South Florida attorneys in 14 legal categories including class action, complex/business litigation, corporate securities, real estate, bankruptcy, international, criminal, appellate, pro bono and probate law among others.
Diaz, Davidson and Gonzalez received the award for their successful efforts as legal counsel for Venezuela's Banco Latino, which sued Milagros Cisneros Fajardo, a wealthy Venezuelan whose mining company defaulted on a $9.25 million loan (Case No. 99-3354 CA-01 (27) Circuit Court of the eleventh judicial circuit in and for Miami-Dade County, Florida). Diaz, the firm's managing partner, and Davidson tried the case before a jury, while Gonzalez, an appellate lawyer, prepared and argued critical motions throughout the proceedings.
Diaz represents multinational corporations and financial institutions, foreign governments and officials and high-profile individuals in arbitration, litigation, sensitive regulatory, commercial and white collar criminal matters in the U. S. and abroad. Davidson is a high-stakes international litigator and arbitrator with noted successes in state and federal courts and before AAA and other arbitral tribunals. Gonzalez concentrates his practice in appellate litigation with an emphasis on international civil and commercial disputes and white collar criminal defense.
About Diaz Reus & Targ, LLP
Diaz Reus represents dealmakers around the world with a focus on emerging markets. With experienced lawyers in Shanghai, China and Miami, Florida among others, the firm is uniquely suited to handle a wide range of commercial, business, and financial transactions across international borders. Diaz Reus lawyers have experience in government relations, trade, compliance, customs, tax, and immigration matters, as well as internal investigations, SEC compliance, white collar criminal defense, litigation, and arbitration. For more information, please visit http://www.diazreus.com.
Diaz Reus & Targ, LLP is a member of the International Society of Primerus Law Firms.
###