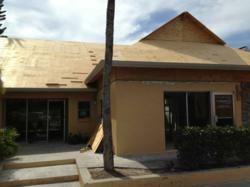 With our new office, we'll be able to provide local businesses and residents with representation for their legal needs
Fort Myers, FL (PRWEB) April 02, 2012
Amongst the dust and sounds of construction, Phoenix File & Pagidipati, is very pleased to announce the expansion of their corporate, real estate and litigation services with a new office on Sanibel Island.
Construction started at the Islander Center located at 2407 Periwinkle Way in early-February. The roof was reconstructed to complement the existing look and feel of the plaza. The office will be decorated with Sanibel Island flair and equipped with a state-of-the-art conference center that will be available to local businesses.
"We are pleased with the progress of the project," said contractor Will Smith of Best Drywall. "We are progressing as scheduled and expect to be completed in August."
Charles Phoenix and Jason File have a long history of working with clients in Lee and Collier County. Their new office on Sanibel Island will further enhance business relationships and will bring the Phoenix-File team's expertise closer to the island community.
"Being residents, we saw a need and an opportunity to bring Sanibel and Captiva a local support resource," said Charles Phoenix. "With our new office, we'll be able to provide local businesses and residents with representation for their legal needs."
The announcement of the new office comes on the heels of multiple announcements and growth of the firm. The firm was renamed when Jason File became a partner this past November and Chuck Phoenix was recently appointed as a mediator by the United States District Court for the Middle District of Florida.
About Phoenix File & Pagidipati PLLC
Phoenix File & Pagidipati PLLC combines legal backgrounds with seamless service to produce progressive legal solutions for clients for today's changing world and businesses as they face big challenges. Phoenix File & Pagidipati looks to help clients unlock value in assets and targets through corporate law, commercial litigation, dispute resolution, reorganization, Chapter 11 representation, contract negotiation, construction law, tax representation, sports and entertainment management, and other approaches. For more information, visit http://www.PhoenixFile.com or call 239.461.0101.
Phoenix File & Pagidipati PLLC is a member of the International Society of Primerus Law Firms.