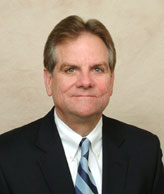 Tampa, Florida (PRWEB) June 25, 2012
Timon V. (Tim) Sullivan of Ogden & Sullivan in Tampa will serve as 2012-13 chair of The Florida Bar Board of Legal Specialization and Education, a 16-member committee that oversees the Bar's board certification program and continuing legal education accreditation and compliance.
Board certified attorneys generally are the only Florida lawyers who may use the terms "specialist," "expert" or "B.C.S" for Board Certified Specialist. The BLSE governs rules and policies for Florida's certification specialty areas and oversees the committees that implement each area's standards. Florida offers 24 board certification areas, more than any other state.
Florida Bar President-Elect Gwynne A. Young of Carlton Fields in Tampa appointed Sullivan as BLSE chair.
"The Florida Bar's Board certification program is one of the best in the country," said Young. "It assists the public in locating lawyers who have demonstrated their level of skill, excellence and commitment to professionalism."
Sullivan is Florida Bar board certified in civil trial, is an Advocate level member of the American Board of Trial Advocates, and is a Fellow of the American College of Trial Lawyers. The Florida Chapters of American Board of Trial Advocates named Sullivan as FLABOTA's Defense Trial Lawyer of the Year for 2012, recognizing him as a "highly skilled trial lawyer who exemplifies the highest standards of the legal profession."
Sullivan has been an active member and officer of the American and Hillsborough bar associations and has served in numerous Florida Bar leadership roles. He is a former Florida Bar Board of Governors member and chair of the Board of Governors Communications Committee. His numerous professional and civic activities include memberships in the Federation of Defense and Corporate Counsel, the Florida Defense Lawyers Association, Leadership Tampa and the Judge J. Clifford Cheatwood American Inn of Court.
Sullivan is only the second Tampa lawyer to serve as BLSE chair in the certification program's 30-year history; board certified civil trial lawyer Christopher S. Knopik of Knopik Deskins Law Group was chair in 2006-07.
Background: Certification is The Florida Bar's highest evaluation of attorneys' competency, experience and professionalism in the 24 areas of law approved for specialization. Florida Bar board certified lawyers have demonstrated ability and experience in their fields and professionalism within the legal community. Only 4,500 of Florida's 91,000 attorneys are board certified. The Florida Bar maintains a free, on online directory of board-certified lawyers by specialty area and city at FloridaBar.org/certification.
A lawyer who is Florida Bar member in good standing and who meets the standards prescribed by the Florida Supreme Court may become board certified in one or more of the 24 certification fields. Minimum requirements for certification are listed below; each area of certification may contain higher or additional standards.
-A minimum of five years in law practice.
-Substantial involvement in the field of law for which certification is sought.
-Satisfactory peer review from other lawyers and judges to assess competence in the specialty field as well as character, ethics and professionalism in the practice of law.
-Completion of the certification area's continuing legal education requirements.
-A passing grade on the examination required of all applicants or satisfaction of strict criteria to exempt the exam.
Board certification is valid for five years. The attorney during that time must continue to practice law and attend Florida Bar-approved continuing legal education courses. Recertification requirements are similar to those for initial certification. Not all qualified lawyers are certified, but those who are board certified have voluntarily taken the extra step to have their competence and experience evaluated.
For more information, please visit The Florida Bar website at Floridabar.org/certification or contact The Florida Bar's Legal Specialization & Education Department at 850/561-5842.
About Ogden & Sullivan, P.A.
Ogden & Sullivan, P.A. is a trial practice firm in Tampa, Florida which represents clients in state and federal courts throughout Florida. Founded in 1990 by Randy Ogden and Tim Sullivan, the Firm strives to provide high quality legal representation designed to assist their clients in achieving the best possible result - whether by settlement or trial. Recognizing that a trial is not always in their clients' best interest, Ogden & Sullivan, P.A. is committed to alternative forms of case resolution, including mediation and arbitration. The firm is always mindful of their clients' desire for swift and cost-effective resolution of their claims, and they emphasize close communication with clients to insure these goals are met.
Ogden & Sullivan, P.A. is a member of the International Society of Primerus Law Firms.