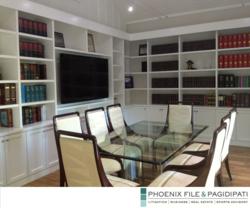 Fort Myers, Florida (PRWEB) October 15, 2012
Phoenix File & Pagidipati PLLC is pleased to announce the expansion of their corporate, real estate, and litigation services with a new office on Sanibel Island. Construction started in early February 2012 to further enhance business relationships, and bring the Phoenix-File team and their expertise closer to the island community.
The new office, completed October 1, now gives Phoenix File & Pagidipati PLLC three distinct locations serving southwest Florida:
2407 Periwinkle Way, Suite 6, Sanibel, FL 33957
12800 University Drive, Suite 240, Ft. Myers, FL 33907
2590 Northbrook Plaza Drive, Suite 303, Naples, FL 34119
Featuring a state-of-the-art conference center available to local businesses, the new location has been outfitted with Sanibel Island flair - hardwood floors, a white color scheme, paneled 12 foot walls, vaulted ceilings with tongue in grove distressed wood, and glass from wall to ceiling to promote an open feel throughout. Designed to look like a retrofit remodel, the building uses cable lighting with many intergraded design features.
Additional features to the new location include "Whooshing" fans to simulate the natural Sanibel breezes, operated by remote control with seven speeds, one of which is called "Whoosh". LED lighting has also been installed to reduce electricity cost, help simulate day light and reduce interior heat.
A "Grand Opening" will be scheduled in November to celebrate the expansion.
About Phoenix File & Pagidipati PLLC
Phoenix File & Pagidipati PLLC combines legal backgrounds with seamless service to produce progressive legal solutions for clients for today's changing world and businesses as they face big challenges. Phoenix File & Pagidipati looks to help clients unlock value in assets and targets through corporate law, commercial litigation, dispute resolution, reorganization, Chapter 11 representation, contract negotiation, construction law, tax representation, sports and entertainment management, and other approaches.
Phoenix File & Pagidipati PLLC is a member of the International Society of Primerus Law Firms.