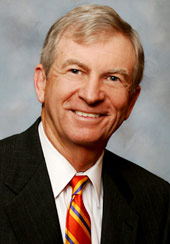 Augusta, GA (PRWEB) November 02, 2011
After more than a quarter of a century in publication, Best Lawyers is designating "Lawyers of the Year" in high-profile legal specialties in large legal communities. Only a single lawyer in each specialty in each community is being honored as the "Lawyer of the Year." Best Lawyers compiles its lists of outstanding attorneys by conducting exhaustive peer-review surveys in which thousands of leading lawyers confidentially evaluate their professional peers. The current, 18th edition of The Best Lawyers in America (2012) is based on more than 3.9 million detailed evaluations of lawyers by other lawyers. The lawyers being honored as "Lawyers of the Year" have received particularly high ratings in our surveys by earning a high level of respect among their peers for their abilities, professionalism, and integrity.
Last year's recipient, Patrick J. Rice said, "I have practiced with David Hudson for over 30 years and can attest to his exceptional legal mind, strong work ethic, integrity and extensive litigation knowledge. He and I have worked together a number of times in some very significant 'bet-the-company' litigation matters. He is one of the leading trial lawyers in the country."
David practices in the area of general civil litigation with an emphasis on business and commercial disputes, media law and construction law. He has been a trial lawyer since 1974, and has represented clients at the trial court level in Georgia, South Carolina, Texas, and New York. He has also argued numerous appeals in the appellate courts of Georgia, the United States Courts of Appeals for the Second, Fifth and Eleventh Circuits, and a case before the Supreme Court of the United States. He is a Fellow of the American College of Trial Lawyers and currently serves as the Georgia chairman. He formerly served as a member and Chair of the State Board of Bar Examiners.
Steven Naifeh, President of Best Lawyers, says, "We continue to believe – as we have believed for more than 25 years – that recognition by one's peers is the most meaningful form of praise in the legal profession. We would like to congratulate David E. Hudson on being selected as the 'Augusta, GA Best Lawyers Bet-the-Company Litigation Lawyer of the Year' for 2012."
Hull Barrett, PC is a full service law firm with 27 attorneys firm wide with offices in Augusta and Evans, Georgia and Aiken, South Carolina. The firm is engaged in a general civil practice providing a broad range of legal services with an emphasis on general litigation, trials and appeals; securities and corporate law; mergers, acquisitions and public offerings; local government law and eminent domain actions; health care; computer and technology law; internet ventures; trademark and copyright law; taxation; public finance; commercial real estate; construction law and disputes; employment law; banking law; insurance law; trusts, estate planning and probate; First Amendment and media law and environmental matters. Hull Barrett represents a broad client base of major corporations, small businesses, professional entities, financial and lending institutions, local governments, public authorities, public utilities, railroad companies, insurance companies, health care institutions and individuals.
Hull Barrett is also a member of the International Society of Primerus Law Firms (Primerus). Primerus is an international society of top-rated, independent, boutique law firms that have earned the right to display the Primerus seal of quality. As one of the most respected law firm societies, Primerus has over 170 member firms in 125 cities located in over 25 countries throughout the world. To learn more about how Primerus can provide the trusted legal advisors you need, visit http://www.primerus.com or call 800-968-1122.
###