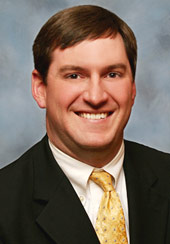 Davis knows the county very well, especially the legal matters ranging from real estate, land use and human services. He is a dedicated public servant and can provide strong leadership skills and has a clear vision for the future of McDuffie County
Augusta, Georgia (PRWEB) April 09, 2012
The McDuffie Board of County Commissioners announced this month that Davis A. Dunaway has been chosen to be the new County Attorney. Mr. Dunaway was selected from several other applicants after each presented proposals to the County Commission. "Davis knows the county very well, especially the legal matters ranging from real estate, land use and human services. He is a dedicated public servant and can provide strong leadership skills and has a clear vision for the future of McDuffie County," stated Douglas D. Batchelor, Hull Barrett managing partner and Columbia County attorney.
Mr. Dunaway has been licensed to practice in Georgia since 2003 and is admitted to practice before the Eleventh Circuit Court of Appeals; Federal District Courts for the Southern and Middle Districts of Georgia and all State Courts of Georgia. His diverse and active trial practice has allowed him to represent clients in complex civil litigation matters including real estate litigation, title insurance defense, contract claims, bad faith claims, eminent domain and condemnation, construction disputes, bankruptcy matters, defending and pursuing personal injury claims, commercial litigation, landlord/tenant matters, and creditor rights and collections. He also routinely advises and assists a broad range of clients in various stages of conflict resolution, preventative measures, and offers innovative solutions to fit each of his clients' individual legal needs. Mr. Dunaway earned his B.B.A. in Finance from the University of Georgia in 2000 and his J.D. from the University of Georgia School of Law in 2003. In 2010 he was selected as one of the Augusta Metro Chamber of Commerce's Top Young Professional to Watch and was named as a Rising Star by Georgia Super Lawyers in 2011 and 2012.
About Hull Barrett, PC
Hull Barrett, PC is a full service law firm with 27 attorneys with offices in Augusta and Evans, Georgia, and Aiken, South Carolina. The firm is engaged in a general civil practice providing a broad range of legal services with an emphasis on general litigation, trials and appeals; securities and corporate law; mergers, acquisitions and public offerings; local government law and eminent domain actions; health care; intellectual property; taxation; public finance; commercial real estate; construction law and disputes; employment law; banking law; insurance law; trusts, estate planning and probate; First Amendment and media law; medical malpractice defense and environmental matters. Hull Barrett represents a broad client base of major corporations, small businesses, professional entities, financial and lending institutions, local governments, public authorities, public utilities, railroad companies, insurance companies, health care institutions and individuals.
Hull Barrett is a member of the International Society of Primerus Law Firms.