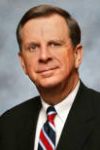 I am humbled to receive this honor in a town where many outstanding attorneys practice
Augusta, GA (PRWEB) July 02, 2012
William H. Tucker, an attorney with Hull Barrett, PC, has been selected by the readers of the Aiken Standard Newspaper as a recipient of the "Readers' Choice Award" as Best Attorney 2012. Every year the Aiken Standard runs ballots in the newspaper for several weeks before the tally and asks readers to vote for their favorite businesses and services. Established in 1867, the Aiken Standard is a newspaper published in Aiken, SC that has a daily circulation of over 17,000.
"I am humbled to receive this honor in a town where many outstanding attorneys practice," Mr. Tucker said. "It's an honor not only for me, but also for all of the attorneys and staff at Hull Barrett, PC who work hard daily to make sure our clients receive the best legal representation possible."
Mr. Tucker joined Hull Barrett in 1980 and is a senior partner in the Aiken office of the firm. He practices in the areas of estate planning, probate, real estate, and business/corporate law and has extensive experience on wealth transfer issues for individuals and owners of closely held businesses, the administration of decedents' estates, as well as residential and commercial real estate transactions and small business transfers. In addition to being selected Aiken Standard's Reader's Choice Best Attorney 2012, Mr. Tucker is included in The Best Lawyers in America for real estate law, has an AV Martindale-Hubbell Rating from his peers, and was selected as University of South Carolina Aiken Distinguished Citizen Award in 2011.
About Hull Barrett, PC
Hull Barrett, PC is a full service law firm with 28 attorneys with offices in Augusta and Evans, Georgia, and Aiken, South Carolina. The firm is engaged in a general civil practice providing a broad range of legal services with an emphasis on general litigation, trials and appeals; securities and corporate law; mergers, acquisitions and public offerings; local government law and eminent domain actions; health care; intellectual property; taxation; public finance; commercial real estate; construction law and disputes; employment law; banking law; insurance law; trusts, estate planning and probate; First Amendment and media law; medical malpractice defense and environmental matters. Hull Barrett represents a broad client base of major corporations, small businesses, professional entities, financial and lending institutions, local governments, public authorities, public utilities, railroad companies, insurance companies, health care institutions and individuals.
Hull Barrett, PC is a member of the International Society of Primerus Law Firms.