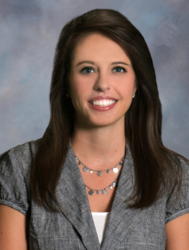 We are excited to have Amanda join our team at Hull Barrett. Her experience and knowledge of the healthcare arena will be a great asset to the litigation department and to our clients
Augusta, Georgia (PRWEB) October 22, 2012
Hull Barrett, PC is pleased to announce that Amanda DiOrio Lynde has joined the firm as the newest member of Hull Barrett's medical malpractice defense group. Amanda comes to the firm from Chicago, Illinois and practices in the area of general civil litigation, with an emphasis on medical malpractice defense, hospital liability litigation, and long-term care facility litigation. She routinely helps defend physicians, hospitals, and extended care facilities in various fields of medicine, including emergency medicine, orthopedics, cardiology, internal medicine, urology, nursing, obstetrics, general surgery, and plastic surgery, among others.
"We are excited to have Amanda join our team at Hull Barrett. Her experience and knowledge of the healthcare arena will be a great asset to the litigation department and to our clients," said Litigation and Medical Malpractice Defense chairman James V. Painter. "I look forward to working with Amanda and mentoring her as she grows her professional practice here at the firm."
Amanda is a 2004 graduate of the University of Notre Dame, where she earned her bachelor's of arts and was honored with the City of South Bend Good Deed Award. In 2008 she earned her JD from the University of Dayton School of Law, where she served as Vice-Chief Justice of Moot Court and Honor Council Student Representative. While attending law school she also was awarded the 2006 Walter H. Rice Moot Court Competition Finalist and the 2006 CALI award for Legal Writing II. After graduation and before moving to Augusta, Amanda practiced for four years at Anderson, Rasor & Partners, LLP in Chicago, Illinois.
About Hull Barrett, PC
Hull Barrett, PC is a full service law firm with 29 attorneys with offices in Augusta and Evans, Georgia, and Aiken, South Carolina. The firm is engaged in a general civil practice providing a broad range of legal services with an emphasis on general litigation, trials and appeals; securities and corporate law; mergers, acquisitions and public offerings; local government law and eminent domain actions; health care; intellectual property; taxation; public finance; commercial real estate; construction law and disputes; employment law; banking law; insurance law; trusts, estate planning and probate; First Amendment and media law; medical malpractice defense and environmental matters. Hull Barrett represents a broad client base of major corporations, small businesses, professional entities, financial and lending institutions, local governments, public authorities, public utilities, railroad companies, insurance companies, health care institutions and individuals.
Hull Barrett, PC is a member of the International Society of Primerus Law Firms.