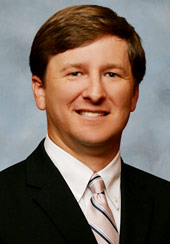 I am truly excited about working with this nonprofit whose mission is to impact the lives of young people with programs that build character, instill life-enhancing values and promote healthy choices through the game of golf
Augusta, Georgia (PRWEB) April 25, 2013
The First Tee of Augusta has elected Hull Barrett attorney Michael E. Fowler, Jr. to the Board of Directors. The First Tee of Augusta (FTA) is one Chapter of a national/international, non-profit youth initiative, The First Tee, created in 1997, by the World Golf Foundation to provide young people of all ethnic and economic backgrounds an opportunity to develop, through golf and character education, life-enhancing values such as honesty, integrity and sportsmanship. By engaging young people in a combination of life skills, leadership and golf activities, they are exposed to positive traits that will help them achieve success in life. In the process, participants become valuable assets to their community. The First Tee life skills and golf experience is the unique component that sets The First Tee apart from many other successful junior golf programs.
"I am truly excited about working with this nonprofit whose mission is to impact the lives of young people with programs that build character, instill life-enhancing values and promote healthy choices through the game of golf," said Mr. Fowler. "I look forward to helping grow and promote First Tee of Augusta's mission to the central Savannah river area."
Mr. Fowler graduated from Samford University Cumberland School of Law in 2000 and is admitted to practice in Alabama, Georgia and South Carolina. In the areas of real estate and commercial transactions Mr. Fowler advises and works closely with companies and clients on general corporate matters. His practice concentrates on representing corporate, banking, and individual clients in transactions such as real estate closings, lease and contract negotiation and drafting loan closings, collections, and foreclosures.
About Hull Barrett, PC
Founded in 1916, Hull Barrett, PC is a full service law firm with 28 attorneys practicing in Augusta and Evans, Georgia, and Aiken, South Carolina. The firm is engaged in a general civil practice providing a broad range of legal services with an emphasis on general litigation, trials and appeals; securities and corporate law; mergers, acquisitions and public offerings; local government law and eminent domain actions; health care; intellectual property; taxation; public finance; commercial real estate; construction law and disputes; employment law; banking law; insurance law; trusts, estate planning and probate; First Amendment and media law; medical malpractice defense and environmental matters. Hull Barrett represents a broad client base of major corporations, small businesses, professional entities, financial and lending institutions, local governments, public authorities, public utilities, railroad companies, insurance companies, health care institutions and individuals.
Hull Barrett, PC is a member of the International Society of Primerus Law Firms.