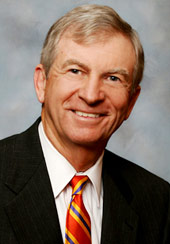 Augusta, GA (PRWEB) October 10, 2012
In 2011, The John S. and James L. Knight Foundation and the Peyton Anderson Foundation awarded $4.6 million in grants to launch a journalism collaborative involving Mercer University, The Macon Telegraph, which is Georgia's third-largest daily newspaper, and Georgia Public Broadcasting (GPB), the third-largest public broadcaster in the country based on population reach. This Center for Collaborative Journalism at Mercer University seeks to engage Mercer students and faculty and the news staffs of The Telegraph and GPB in innovative journalism that advances journalistic excellence in the digital age and contributes to a more informed, engaged Central Georgia community. The new center will create one of the largest journalism/community projects in Georgia history and be a model for higher education/media collaborations in other cities.
In the dedication on September 28th, 2012 at Mercer Village, Mr. Hudson, Chairman of the Mercer Board of Trustees, said, we are "So flooded with an overload of information, much of which turns out to be bogus, where does the American Citizen turn for information that has been researched, substantiated, edited, and is reliable? I submit that a prime repository for public trust is, and should be, the local newspaper and local broadcasters such as public radio and television. It is the task of the Center for Collaborative Journalism to ensure that this tradition of reliability and trust continues and becomes even stronger." In closing Mr. Hudson asked and stated, "Who will benefit from this Center? We, the citizens. We, who make up our democracy. We, who will be able to read and listen with confidence that the highest standards of journalism have been followed."
A loyal Mercer alumnus, Mr. Hudson has served as Chair of the Board previously in 2006 and 2007. He has served on the Board of Trustees for over thirty years and chaired the University's presidential search committee in 2006. Mr. Hudson practices at Hull Barrett, PC in the area of general civil litigation with an emphasis on business and commercial disputes, media law and construction law.
About Hull Barrett, PC
Hull Barrett, PC is a full service law firm with 29 attorneys with offices in Augusta and Evans, Georgia, and Aiken, South Carolina. Hull Barrett is a member of the International Society of Primerus Law Firms.
About Mercer University
The University brings to the Center a long and proud history of preparing journalists that dates back to the early 20th century. In 1920 Mercer established a School of Journalism that was recognized as an "A"-grade school by the Association of Schools of Journalism and Mass Communication. Its first dean was an editor at The Macon Telegraph, and around 14 courses were offered to student journalists, who augmented their coursework by working for The Macon Telegraph and the weekly University newspaper, The Orange and Black. While the school dissolved some years later, the University continues to offer journalism coursework through its Journalism and Media Students Department in the College of Liberal Arts. The goal of the Center for Collaborative Journalism is to return Mercer to its roots, while fully embracing the need to employ and develop new digital platforms that advance storytelling and serve the community's information needs.