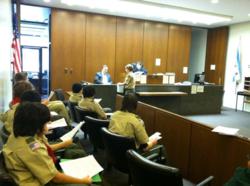 Chicago, Illinois (PRWEB) January 24, 2012
Thirty high school-age Boy Scouts from 12 troops of the Chicago Area Council earned their "Law" merit badge upon completing a day-long clinic offered by NESA CHICAGO (the Chicago Chapter of the National Eagle Scout Association) at the Circuit Court of Cook County's Daley Center on January 21, 2012. The faculty was comprised of judges and attorneys from various backgrounds around Chicago, each of which are Eagle Scouts, including Howard L. Huntington (partner at Williams Montgomery & John) and Benjamin M. Whipple (associate at Williams Montgomery & John). The youths concluded the day and completed their badge requirements by participating in mock trial exercises in an actual courtroom. NESA CHICAGO serves as both a social networking group for Eagle Scouts as well as a service organization to support Scouting in the Chicago area. Huntington is the Chairman of NESA CHICAGO.
About Williams Montgomery & John Ltd.
Clients call upon the trial lawyers of Williams Montgomery & John to vigorously and diligently represent their interests before judges and juries in high-stakes litigation matters across the United States. Few law firms have more experience appearing before juries in complex litigation than Williams Montgomery & John. The firm takes great pride in the fact that they are A Firm of Trial Lawyers.
Dedication, passion and the courage to try lawsuits are the three qualities that distinguish Williams Montgomery & John from other business litigation law firms. They are willing and able to take any case to verdict and their opponents know it. The firms lawyers tackle challenging cases across a variety of industries and obtain successful results for their clients in federal and state courts across the country.
Clients trust Williams Montgomery & John to handle their sophisticated business and financial disputes and to devise and execute a litigation plan that will achieve their goals. For more than 40 years the firm has delivered fearless and effective advocacy for their clients.
Williams Montgomery & John Ltd. is a member of the International Society of Primerus Law Firms.
###