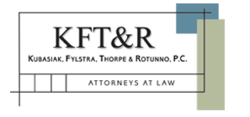 Chicago, IL (PRWEB) November 28, 2011
Kubasiak, Fylstra, Thorpe & Rotunno, P.C., located in Chicago, IL, is pleased to announce that the firm recently won the Primerus Community Service Award at the 2011 Primerus Annual Conference. The firm won the award following a vote of the Primerus membership based on the firm's participation in numerous community service events, dedication to providing pro bono legal services, and active involvement with a number of local charitable and civic organizations.
Primerus firms are characterized by their commitment to the Six Pillars of Primerus, one of which is Community Service. Primerus members contribute countless hours to leadership activities, pro bono legal services, fundraising, volunteering, and other community service endeavors. It is for this reason that Primerus created its Community Service Award to showcase the firms whom have shown extraordinary service and dedication to their local communities in the following community service categories: (i) Promoting Youth and Education; (ii) Leadership in Community Not for Profit; (iii) Organizations; (iv) Promoting Local Business and Economic Development; (v) Promoting Professional Involvement; (vi) Community Fundraisers; and (vii) Pro Bono Efforts.
Each summer, Primerus members are asked to submit a summary of their firm's community service efforts and activities that they were involved in during the prior year. All submissions are collected and reviewed by the Primerus Nominating Committee, which is comprised of the Chairs of the Primerus Institutes. After careful consideration, the Nominating Committee selects the top three finalists. The winner is then determined by the Primerus members through online voting. Only the submissions of the three finalists are revealed to Primerus' members. However, for the sake of anonymity, the names, locations, and any other possible identifiers are removed. The Primerus Community Service Award winner is announced at the Primerus Annual Conference.
About Kubasiak, Fylstra, Thorpe & Rotunno, P.C.
For legal solutions that deliver results,Kubasiak, Fylstra, Thorpe & Rotunno, P.C. is the answer to your legal needs. The firm occupies a unique position among small law firms by offering both complex litigation services and sophisticated transactional representation, turning problems into solutions. With extensive resources to address virtually any type of business or liability matter, the firm is able to integrate the skills, knowledge and experience of its legal team to achieve creative solutions with superior results.
Having earned a reputation for the highest quality legal services, its experienced attorneys have made a name representing client interests both ethically and economically. Their formula for success: quality legal services on a timely basis at a reasonable cost. To accomplish this, Kubasiak, Fylstra, Thorpe & Rotunno, P.C. maintains close working relationships with its clients and pairs the firm's areas of experience with client needs.
Kubasiak, Fylstra, Thorpe & Rotunno, P.C., is also a member of the International Society of Primerus Law Firms (Primerus).
###