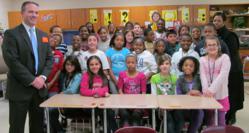 Chicago, Illinois (PRWEB) February 13, 2012
Attorney Howard L. Huntington presented the Indiana State Bar Association's statewide "Why Lincoln Was a Lawyer" program to about ninety 5th grade students of Teacher Victoria Baldwin at Merrillville Intermediate School on Feb. 10, 2012. The students learned about Abraham Lincoln's life, connections to Indiana, career as a lawyer and the impact he made on this nation. The students also learned about the legal profession today and received chocolate Lincoln "penny" candies as prizes. Huntington, a partner of Chicago law firm Williams Montgomery & John Ltd. located in Willis Tower, is a dual-licensed attorney who practices in both Northwest Indiana and Illinois. He focuses his practice on construction, business, commercial, product liability, civil rights and transportation litigation.
About Williams Montgomery & John Ltd.
Clients call upon the trial lawyers of Williams Montgomery & John to vigorously and diligently represent their interests before judges and juries in high-stakes litigation matters across the United States. Few law firms have more experience appearing before juries in complex litigation than Williams Montgomery & John. The firm takes great pride in the fact that they are A Firm of Trial Lawyers.
Dedication, passion and the courage to try lawsuits are the three qualities that distinguish Williams Montgomery & John from other business litigation law firms. They are willing and able to take any case to verdict and their opponents know it. The firm's lawyers tackle challenging cases across a variety of industries and obtain successful results for their clients in federal and state courts across the country.
Clients trust Williams Montgomery & John to handle their sophisticated business and financial disputes and to devise and execute a litigation plan that will achieve their goals. For more than 40 years the firm has delivered fearless and effective advocacy for their clients.
Williams Montgomery & John Ltd. is a member of the International Society of Primerus Law Firms.
###