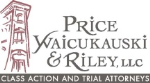 Indianapolis, Indiana (PRWEB) August 27, 2012
Today, Price Waicukauski and Riley, LLC attorneys William Riley, Ron Waicukauski, and Joe Williams filed a class action lawsuit against BP. According to court documents, the plaintiff purchased defective BP gas on August 19, 2012. The following day Plaintiff's vehicle would not start. After taking the vehicle to Plaintiff's local mechanic, Plaintiff discovered that the defective fuel had significantly damaged the engine. The class action seeks to represent all Indiana residents who purchased the defective fuel (United States District Court, Northern District of Indiana).
According to court documents, from August 13, 2012 through August 17, 2012, BP shipped approximately 2,100,000 gallons of contaminated and otherwise faulty fuel from its Whiting, Indiana fuel storage terminal to over 200 gas stations in Northwest Indiana and the Chicago area (the "Defective Fuel"). The Defective Fuel was shipped to BP branded gas stations as well as many other independently branded gas stations. On August 20, 2012, BP began to recall the 2,100,000 gallons of the Defective Fuel because the gas contained higher than normal levels of polymetric residue which damages vehicles and causes them to malfunction in numerous ways including: starting with difficulty or not starting at all; engine stalling; severe engine shaking; fouling of the entire fuel system; and fuel injector and other component failure.
According to court documents, on August 23, 2012, BP had received at least 7,000 complaints from consumers who are believed to have purchased the Defective Fuel. On the same date, BP announced that it had "traced the source of the off-specification fuel" and had made changes to operations at the Whiting, Indiana plant to return fuels produced there back within normal specifications.
If you have any questions regarding this lawsuit, then please feel free to call Price Waicukauski & Riley, LLC (317) 633-8787.
About Price Waicukauski & Riley, LLC
Price Waicukauski & Riley, LLC offers more than 100 years of litigation experience in state and federal courts throughout Indiana and across the nation. While the firm's office is located in Indianapolis, Indiana, Price Waicukauski & Riley focuses on representing plaintiffs in complex cases throughout Indiana and nationwide.
Price Waicukauski & Riley, LLC is a member of the International Society of Primerus Law Firms.