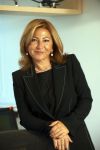 Istanbul, Turkey (PRWEB) October 31, 2012
Serap Zuvin Law Office is proud to announce that sole partner, Ms. Serap Zuvin spoke at the Kadiger (EWL in Turkey) Seminar, which took place on Tuesday, October 16, 2012 at European Parliament Room A1-E1. Ms. Zuvin presented on the topic, "On the way to the membership to the EU, major legislation changes introduced in Turkey last year, which positively affect the decisions of the foreign investors"
Members of the European Parliament from the Netherlands, Ms. Emine Bozkurt and KAGIDER (Women Entrepreneurship Association of Turkey) organized the seminar in the European Parliament, during the SME Week of the European Commission, on women entrepreneurship. In the light of the official announcement made by KAGIDER, the aim of this event was to bring together different stakeholders from civil society at the EU level for the purpose of discussing:

Important contributions of women-led enterprises to economic growth,
Efficiency of policies at national and EU level on women entrepreneurship and
Capacity of building measures for women entrepreneurs in SME policy development.
About Ms. Serap Zuvin
Serap Zuvin is the sole partner of Serap Zuvin Law Offices. Ms. Zuvin is an author and recognized authority on aviation law and aircraft financing. She has represented major airline companies and continues to act for some of the largest global players in the field.
Since the beginning of her career, Serap Zuvin has represented international corporate clients and specialized in corporate finance, with a particular emphasis on equipment finance. She has been extensively involved in numerous cross-border joint ventures and mergers and acquisitions. She also has noted expertise in pharmaceutical law, corporate reorganizations, competition law and labor law.
About Serap Zuvin Law Offices
Serap Zuvin Law Offices (SZLO) is an Istanbul based law firm representing domestic and international blue-chip corporate clients in local and cross-border transactions by combining its local expert se with the global standards.
Ever since its establishment in 2000, SZLO has been recognized for providing high quality legal and business services to its clients with efficiency and expediency. It is the firm's mission statement to resolve the most urgent and demanding problems of its clients by providing the most comprehensive analysis, expedient and custom-tailored solutions.
To assist its clients as part of their local and cross border operations and legal disputes with the finest superiority, each team member of SZLO are conversant in English and most of them speak at least a third language (French, German etc.) as well as being graduates of the most reputable law schools in Turkey.
Serap Zuvin Law Office is a member of the International Society of Primerus Law Firms.