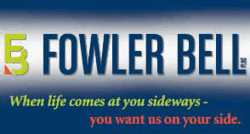 Lexington, Kentucky (PRWEB) November 13, 2012
Fowler Bell PLLC is pleased to announce that Taft A. McKinstry, managing member; Guy R. Colson, member; and Robert S. Ryan, member; were selected for inclusion in The Best Lawyers in America 2013 edition. Taft A. McKinstry was selected for her practice in Bankruptcy and Creditor Debtor Rights/Insolvency and Reorganization Law. Guy R. Colson was selected for his practice in Insurance Law and Robert S. Ryan was selected for his practice in Bankruptcy and Creditor Debtor Rights/Insolvency and Reorganization Law, Bankruptcy Litigation, Real Estate Litigation, and Real Estate Law. Robert S. Ryan was also selected as 2013 Lawyer of the Year for the practice area of Bankruptcy Litigation. This honor is given only to one lawyer in each community.
Best Lawyers is the oldest and most respected peer-review publication in the legal profession. A listing in Best Lawyers is widely regarded by both clients and legal professionals as a significant honor, conferred on a lawyer by his or her peers. For more than three decades, Best Lawyers® lists have earned the respect of the profession, the media, and the public, as the most reliable, unbiased source of legal referrals anywhere.
In addition to the firm's recognition by The Best Lawyers in America, Jana Smoot White, a Fowler Bell PLLC associate, has been selected as a 2012 Rising Star with Lexington Young Professionals Association (LYPA). Jana Smoot White was recognized for being an aspiring leader for her contributions both professionally and philanthropically.
LYPA was founded in July 2000 by eight young professionals in Lexington. Their mission was to create an organization that provided emphasis on personal, civic and professional development for local professionals between the ages of 21 – 40. Since this time, LYPA has grown into an organization of hundreds of young professionals in Lexington and the surrounding area.
About Fowler Bell PLLC
Fowler Bell is Kentucky's commercial, bankruptcy and litigation law firm known for finding practical solutions to complex matters. Based in Lexington, it serves business clients throughout the Commonwealth and the U.S. It is known for handling complicated financial matters, especially in the areas of bankruptcy and creditor rights, complex litigation and mediation, insurance defense, real estate and collections.
Beyond their substantial experience and professional expertise, Fowler's attorneys are widely respected for their integrity, responsiveness and wise counsel. They take a no-nonsense approach to finding solutions and resolving conflicts. They offer guidance, reassurance and results to clients facing tough business or personal challenges.
Fowler Bell PLLC is a member of the International Society of Primerus Law Firms.