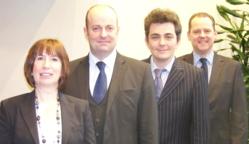 Leeds, West Yorkshire (PRWEB) January 23, 2012
Ford & Warren Solicitors have recently made four Partner promotions at the firm. Simon Robinson has been with the firm for 10 years and is now a Partner within the Employment department. Lindsay Staddon, Charles Heppenstall and Mark Robson, all from the firm's Insurance department, have also been promoted.
Lindsay has over 20 years experience and acts exclusively in the areas of catastrophic Injury and multi-track claims, whilst Mark and Charles work within the department's fraud and technical team specialising in motor fraud and credit hire respectively. Blaise Smith; a senior partner at the firm and Head of the Insurance department said:
"We are pleased that we can improve on the partner-led service we already provide. We strive to continually improve the service we provide to our clients and personal development of our staff plays a large part in that. Each of the new Partners will have an important role to play in the growth and management of the department."
Other recent promotions include two promotions to Associate for Stephen Fallon and Chris Luscombe, also from the firm's Insurance team.
About Ford & Warren
Ford & Warren Solicitors is an independent, full-service law firm based in Leeds. The firm offers an excellent service at very competitive rates; proving to their varied client base that they do not have to pay London city prices for a quality service. Despite catering to a host of local needs, the firm receives 70% of instructions from outside the Yorkshire area, giving the firm a national and international presence.
With a history that goes back almost 150 years, here stands a firm that has stood the test of time. The firm has always prided itself on providing its clients three key benefits: value for money, professionalism, and excellent client care. The firm's clear 'No Surprises' policy provides its clients with the peace of mind that they are being represented with absolute integrity.
Ford & Warren are a firm that has built a client base on recommendations and reputation. Going forward, the firm plans to continue to play to the strengths which differentiate them from their competitors. Ford & Warren's dedication to the identification of changing client needs, their global connection to a network of top-rated law firms and their passion for providing a client-led service at a reasonable price, continues to attract those smart companies and individuals who realize that innovative market-focussed law firms do not have to charge high fees, or be on the client's doorstep, to deliver an unbeatable service.
Ford & Warren is a member of the International Society of Primerus Law Firms.
###