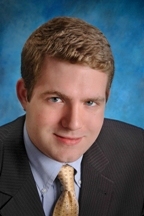 New Orleans, LA (PRWEB) April 29, 2013
Montgomery Barnett, L.L.P. is pleased to announce that Ryan M. McCabe has been awarded the Louisiana State Bar Association Young Lawyer's Division's "Hon. Michelle Pitard Wynne Professionalism Award". The award is given to a Louisiana lawyer for commitment and dedication to upholding the quality and integrity of the legal profession and consideration toward peers and the general public.
Mr. McCabe's areas of practice include Commercial Litigation, Legal Malpractice Defense, Business/Corporate, and Construction. Mr. McCabe is a 2007 graduate of Tulane University Law School, where he presently is an Associate Professor of Trial Advocacy. Recently, Mr. McCabe was also named a Louisiana Super Lawyers Rising Star in professional liability.
Mr. McCabe will be presented the award at the Louisiana State Bar Association's annual meeting in Destin, Florida on June 3, 2013.
About Montgomery Barnett
For over a century, the multi-talented attorneys at Montgomery Barnett have dedicated themselves to providing the best in legal representation and counseling. Based in New Orleans, Louisiana, Montgomery Barnett is a full-service law firm with local, regional, national, and international practices. Its offices are conveniently located in downtown New Orleans near the federal and state courthouses and in downtown Baton Rouge.
Montgomery Barnett's attorneys take pride in their professional abilities, dedication, and attention to their clients' interests. They are also concerned citizens involved in a wide array of community services and projects—a dynamic, hard-working, community-oriented law firm. Montgomery Barnett is committed to these values and will continue to deliver the services and results its clients have come to expect.
Montgomery Barnett is a member of the International Society of Primerus Law Firms.