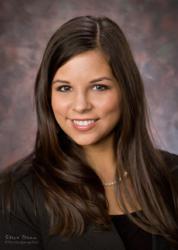 Lansing, MI (PRWEB) November 16, 2011
Brittany Campbell has joined the Gallagher Law Firm with offices in Lansing, Detroit, Grand Rapids and Mt. Pleasant. Ms. Campbell will focus her practice on representing lenders and corporate clients in litigation and regulatory matters.
Representative Experience:

Reviewed and resolved numerous real estate title matters.
Represented title insurance companies with various real estate and mortgage disputes involving priority and possession claims.
Successfully resolved dozens of real estate title curative matters quickly, efficiently, and without need for litigation.
About The Gallagher Law Firm
The Gallagher Law Firm is a regional firm located in mid-Michigan, providing statewide legal service in the areas of business law, estate planning and probate, tax law, real estate, bankruptcy, collections and litigation. The firm's AV-rated, highly experienced attorneys offer responsive and efficient representation not always available at larger firms. The Gallagher Law Firm is well-established and looks forward to working with you. Learn why the firm's clients consider The Gallagher Law Firm to be a trusted, insightful and experienced partner for their legal needs.
Gallagher Law Firm is a member of the International Society of Primerus Law Firms.
###