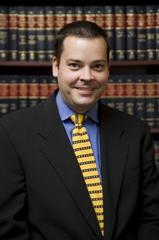 Raleigh, N.C. (PRWEB) January 09, 2013
Teague Campbell Dennis & Gorham, LLP (TCDG) is proud to announce former Teague Campbell associate Bradley G. Inman became the firm's newest partner on January 1, 2013. Brad received his J.D. from the University of North Carolina in 2005, and currently concentrates his practice in the areas of workers' compensation, insurance law and coverage, liability, and commercial litigation.
Brad brings a diverse background and unique perspective to the practice of law, having worked as a Certified Public Account prior to attending law school. After earning his CPA license, Brad worked as an auditor for PricewaterhouseCoopers in Washington, DC and the Cayman Islands for five years and during that time gained a familiarity with how businesses function and the need for effective litigation management strategies. While at PricewaterhouseCoopers, he worked with multinational corporations and lectured on various topics, including tax law and international accounting procedures.
He has successfully defended clients before the North Carolina Court of Appeals, North Carolina Industrial Commission and in Superior Court and has handled matters in all three Federal District Courts in North Carolina. Brad has presented numerous continuing education seminars for adjusters and is always happy to speak with clients or perspective clients about legal issues and strategies. He is a member of the North Carolina Association of Defense Attorneys, North Carolina State Bar, North Carolina Bar Association, and Wake County Bar Association.
Brad is AV-rated by The Martindale-Hubbell® Peer Review RatingsTM, which attests to a lawyer's legal ability and professional ethics and is based on the candid feedback and opinions of other lawyers.
About Teague Campbell Dennis & Gorham, LLP
Teague Campbell Dennis & Gorham, LLP (TCDG) is a Raleigh, NC based law firm that assists and defends employers, business owners and insurers with workers' compensation claims, employment disputes, accident and injury claims, and contract and general business law issues. As a dedicated defense firm, TCDG is able to provide a more personalized service that is not often found in larger, more generalized firms. In addition, the firm remains on the cutting edge of North Carolina appellate law, having appeared as counsel of record in many of the landmark decisions that have defined the basic tenets of North Carolina law as it relates to the areas of civil litigation and workers' compensation.
TCDG and its attorneys have won numerous awards and have been named as industry leaders. The firm's excellence in advocacy, ethics and integrity has led to its selection as a member of the Claims & Litigation Management Alliance and its acceptance into the International Society of Primerus Law Firms. In addition, Teague Campbell was chosen to be, and remains, the sole North Carolina firm in the National Workers' Compensation Defense Network.