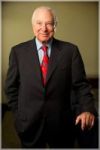 West Orange, New Jersey (PRWEB) November 05, 2012
Cerebral Palsy of North Jersey (CPNJ), honored real estate attorney Barry Mandelbaum, of the West Orange law firm of Mandelbaum Salsburg, at its 2012 Steps to Independence Celebration, held October 17 at the Crystal Plaza in Livingston. The event was the most successful fund-raiser in the 60-year history of the agency, drawing more than 350 guests and raising more than $538,000.
Mandelbaum was honored for his efforts on behalf of CPNJ, garnering support for the fund-raiser from a broad network of family, friends and business associates.
Commented Mandelbaum, "While I was the honoree for the event, the event was not about me. This was an opportunity for me to introduce CPNJ to some wonderfully caring and generous individuals and organizations in the community. The funds raised will impact the lives of hundreds of individuals with disabilities, many of whom could be our friends and neighbors. I'm so glad to have had the opportunity to be a part of this event and look forward to continuing to work on behalf of CPNJ and everyone they serve."
About Cerebral Palsy of North Jersey (CPNJ)
CPNJ has worked on behalf of individuals with disabilities for almost 60 years. Many of the infants, children and adults we serve have multiple disabilities and face significant medical challenges and more than half are unable to communicate verbally. They rely on CPNJ to be their voice, their representative and their advocate.
CPNJ's programs and services include an Early Intervention Program in Bergen and Essex Counties that serves more than 600 infants and toddlers each year; Horizon School and Horizon High School, both located in Livingston, which serve more than 160 students with a wide range of disabilities; a Com¬ munity Therapy Program that serves close to 300 students in public schools; adult day programs in Wayne, Orange and Irvington that serve more than 180 adults with developmental disabilities; and eight community residences that provide around-the-clock support.
About Mandelbaum Salsburg
Since its founding in 1930, Mandelbaum Salsburg has distinguished itself from other law firms through a high level of personal, hands-on attentiveness to clients' legal needs. They treat their clients' problems as their own. Their results oriented approach often enables their clients to avoid costly delays, legal fees and litigation.
In this dynamic and fast paced business environment, Mandelbaum Salsburg has continuously grown and expanded its practice areas to respond to clients' increasingly complex needs. Today, its more than forty five lawyers represent clients in all aspects of commercial litigation, corporate and banking transactions, real estate transactions and development, construction, labor and employment, bankruptcy and environmental law as well as criminal defense, and personal matters including tax and estate planning and administration, matrimonial, adoptions, personal injury litigation and medical malpractice.
Mandelbaum Salsburg is a member of the International Society of Primerus Law Firms.